Boys and girls, grab your swords and your tiaras and don't forget your parents! Disney Junior Live on Tour! Pirates and Princess Adventure is coming to the Crown for two shows on July 18. Part of the 100-city national tour that kicks off in July 2014, the show's stop in Fayetteville will feature two shows, one at 4 p.m. and the other at 7 p.m.
The show will feature characters from beloved Disney series, Sophia the First and Jake and the Never Land Pirates. Starting 10 minutes before the show, attendees will also enjoy an appearance from Doc McStuffins, the loveable 6-year-old doctor to toys and stuffed animals, in an interactive pre-show featuring the song "I Feel Better." Some of your favorite Disney characters will also make an appearance, including Mickey and Minnie, Peter Pan, Tinkerbell and Captain Hook.
Pirates and Princesses features an original storyline, that has the audience traveling to the magical world of Enchancia, with Sophia and her stepsiblings, Amber and James, to prepare for the annual friendship festival. Sophia's adventure will help us all learn the true meaning of being a princess with special help from Cinderella.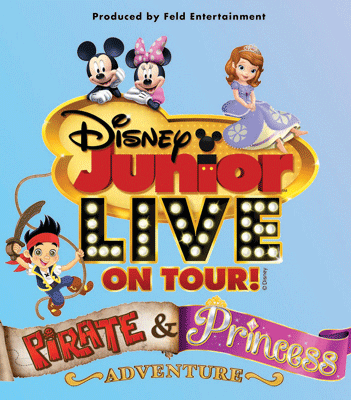 Next, travel to Never Land with Jake and his Yo Ho pirate friends, Izzy and Cubby. Our swashbuckling friends must battle Captain Hook in a race against time to find to locate a mysterious treasure-filled volcano. With the help of Peter Pan, Jake shows us what it means to be a real hero. Featuring new music, special effects, action, adventure and endless surprises, this is a show the whole family will enjoy.
Kennedi Henderson, who plays Princess Amber in the show, as well as a pirate, is from Waxhaw, N.C., just outside of Charlotte. This is her first professional tour.
"I have not been on tour yet, but I am really looking forward to exploring the cities we visit," she said. "I already have a list of things I would like to do while on this tour!"
Henderson has sound advice for any children who want to break into the entertainment industry.
"My advice to children who dream of performing, or for any goal they may have, is to work hard and it will happen! Staying motivated is hard, but so worth it in the end."
Henderson got her own start at the age of 4 when her parents enrolled her in a dance class.
Henderson faced her own challenges when starting as a professional performer.
"Although I began dancing at a young age, I was not as technically advanced as I needed to be going into my performance career," she said. "I attended numerous classes and made a lot of progress in a short span of time. It was challenging knowing I had so much to learn, but definitely paid off! My main goal was to be able to do what I love, which is dance, every day for my career. And, I am so lucky to be doing that now. I have not set any more goals, but I am looking forward to seeing where this takes me."
Tickets for the show range in price from $26.50 to $46.50. Additional fees and service charges may apply. For more information, please visit http://crowncomplexnc.com/events/disney-junior-live-on-tour-pirate-and-princess-adventure/.