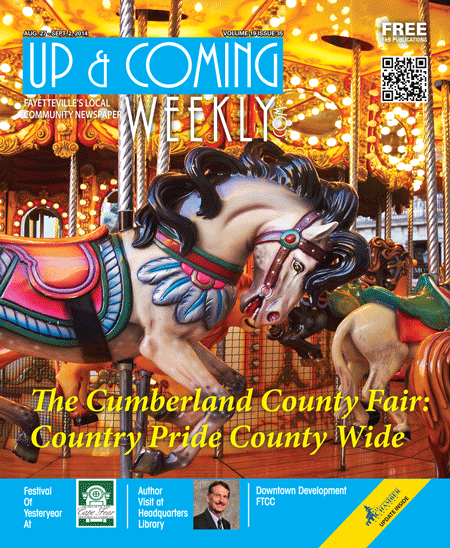 Each September, the greater Fayetteville area is treated to ten days of rides, food, exhibits, shows, pageants, competitions and more when the Cumberland County Fair comes to town. Officially, the fair is supposed to "provide an opportunity to showcase and preserve the history and legacy of the agricultural communities in Cumberland County; to celebrate the diversity of local arts and crafts; to promote a safe setting for fun, healthy family entertainment featuring music, motorsports and animals; and to encourage an environment of friendly competition for all ages."
What that really means is 10 days of non-stop fun. From Sept. 5-14 visit the Crown and enjoy the many attractions that have been a year in the making.
This year, look for all the favorites that make the Cumberland County Fair something worth looking forward to each year. Rides, food, exhibits and shows are all staples at this event but there are some new features worth checking out, too.
"We've got The Wiggles and The Roller Derby as part of the fair this year," said Hubert Bullard, Cumberland County Fair manager. "They are special ticketed items but they are part of the fair. We are going to have a few more rides this year. We have one of the largest portable roller coasters in the world and some of the most spectacular music rides this year."
Then there are features that are returning because they were such a big hit last year.
"We have the skate boarding demos and a huge competition the second weekend of the fair," said Bullard. "It will include skaters from up and down the east coast. Locals can compete in it , too. This event is sponsored by Daville Skate Shop. And the Kidsville News! entertainment stage is returning."
Last year, the Kidsville News! stage offered a chance for visitors to see some of the local talent in the community. Different dance groups, singers, gymnasts and other entertainers from around the community graced the stage and performed for the crowds. There were games and activities scheduled every day and Truman the Dragon was there, too. Visitors can expect to have a lot of fun this year, as well. The groups returning this year include Kerry's Dance Beat, The Charlotte Blume School of Dance, Cumberland Dance Academy and Firehouse-Eastover's Studio of Performing Arts. The Kidsville News! stage is excited to welcome some new groups that include 4D Straw of Wood Boy Entertainment, REJOICE!, Mizz Fabulous and Lil' Blizzard and more.
There is so much going on throughout the course of the fair that it might be difficult for some to choose which days to attend. There will be helicopter rides, monster truck rides and camel rides. Look for a one-ring circus this year.
"We have a large outdoor circus called Torres," said Bullard. "It is a lot of acrobatics and they also have animals. They are new this year. We try to keep the really good things each year and also bring new things in. We have the largest exotic petting zoo of any fair in North Carolina."
One of the things that makes the fair such a success is the great care that is taken by the planners and vendors.
"We take all measures to be safe in the petting zoo. We don't let parents go through with food, drink or strollers. We sanitize hand rails once per hour minimum and require everyone to wash their hands when they leave the petting zoo."
Some of the exotic animals this year include zebras, giraffes and porcupines. There are also domestic animals like goats, rabbits, sheep and pigs. In all, Bullard estimates that there are between 85 and 100 animals in petting zoo.
There are more than 200 people who work to bring the Cumberland County Fair to town each year — and it takes a year to make it happen. Whether it is the racing pigs, the livestock shows, the pageants, the food, the rides, the exhibitions, the skate board demos or other live performances that make the fair special to a person, Bullard says it is worth every bit of work and planning that goes into it to see people having fun.
"It's a monumental task putting different aspects of a fair together. We start working on next year's fair as soon as this one gets over. The rewarding part is seeing so many children leave with a warm fuzzy feeling, smiling faces and having had a good time."
The fair runs from Sept. 5-14. Visit cumberlandcountyfair.org/ to purchase tickets or to find out more about the fair.