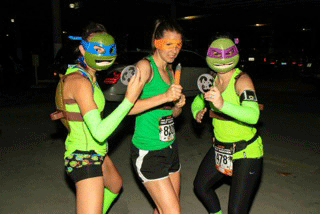 Halloween isn't normally the first thing that comes to mind when thinking of a marathon, but The Halloween Half Marathon plans to change that. The event is full of family fun and customs for all ages to enjoy their exercise in a fun and creative way.
The Halloween Half Marathon started in 2009 in Miami, Fla., and is now going to be annual event in Spring Lake. Proceeds from the event will help Spring Lake Parks and Recreation to help build a new track. After the goal is reached, the company will sponsor other local charities around the community.
Jason Miller, the race director, is a Fayetteville native who has been putting on races for 15 years.
"I eat and sleep running. I love bringing this event to different cities in which I see potential. I see Fayetteville growing as a running community and I wanted to bring more participation here", said Miller.
Miller runs 100 miles a week and runs three to five marathons a year. He plans to participate in the All-American Marathon in March.
"I want to show how exciting a race can actually be. Running or participating in marathons for families is a fun way to bring people to together. This is the only event in which we allow children to race," he said.
Miller and the staff of the Halloween Half Marathon also think of things runners would like.
"We try to incorporate everything we can think of. The tracks we choose to hold the races are flat and we provide a finishing medal," he said. "I'm honored to be back in Fayetteville. It's great to share what I've learned in the last couple years."
The events will begin at 11 a.m., Nov. 1 in Spring Lake with a Family Health and Fitness Fair. During that time, games for all ages, health screenings, fitness speakers, costume awards, a pumpkin carving competition and sponsored giveaways will happen. The kids run (ages 5-13) will begin at 3 p.m. with an entry fee of $5. The Halloween Half Marathon will start at 4 p.m. It costs $65. The 5K starts at 4:15 p.m. and is $30. Each participant will get a T-shirt and a medal. The Halloween Half Marathon also brings awareness to the community about health and physical fitness.
Running of course is normal everyday cardio, but adding a fun spin with activities makes it more appealing. Live music and refreshments are also planned for the event. For The Halloween Half Marathon, organizers are expecting representation from 23 states, as well as a few runners from Morocco, France and Italy.
For more information, or to register for any of the events, visit www.active.com/spring-lake-nc/running/distance-running-races/north-carolina-halloween-half-marathon-2014.
Photos: The Halloween Half Marathon allows adults and kids to enjoy dressing up and exercise.