Downtown Fayetteville is a destination for shopping and entertainment, and on Oct. 24, it will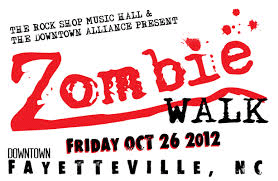 continue late into the evening with this month's 4th Friday, a family-friendly event that celebrates the incredible and varied talents and venues that Fayetteville has to offer. It is impossible to come to 4th Friday and leave without discovering something new.
For children, Fascinate-U is an amazing experience. The museum has interactive exhibits that are intended for children to explore in order to learn about the world. The exhibits include the Gro-Right Grocery and Deli and a Weather Forecast Center. Admission is free on 4th Friday from 7 p.m. until 9 p.m. Kids will enjoy the special event's Spooky Music with the Blue Violin. Kia Walker, a singer and music teacher, and her students will play spooky music. As part of the event, the kids can also make a mask to take home for free. Fascinate-U is located at 116 Green St. For more information about Fascinate-U, call 829-9171 or visit www.fascinate-u.com.
Fayetteville Technical Community College is a valuable institution dedicated to education in the Fayetteville community. This dedication can be clearly seen in its continuous efforts to expand and improve. In The Capitol Room at 134 Person St., beginning at 7 p.m., Sigma Kappa Delta, the English Honor Society, will host a release party for Unbound, a literary arts journal, which is a testament to the dedication FTCC has to higher learning.
The Arts Council opens a new exhibit called Colorblind: Artwork in Black and White this 4th Friday. This is an invitational show that focuses on contrast in 2- and 3-dimensional art works crafted in black and white. The exhibit is free to the public and is open from 7 to 9 p.m. at 301 Hay St. For more information about the exhibit, call 323-1776 or visit www.theartscouncil.com. Live entertainment provided by the Armed Forces Band's Loose Cannons is on tap in front of the Arts Council building, as well.
Another great art venue in downtown Fayetteville is Cape Fear Studios. Located at 148 Maxwell St., the studio is a space for local artists to display their creativity and skill. On Oct. 24, The Annual Nellie Allen Smith National Pottery Competition will open. Potters from all over the state submit their works into the juried competition. The gallery is open from 6 to 9 p.m. and is free to the public.
Embracing the Halloween spirit, the official Downtown Alliance theme for October is Zombie Walk. The zombie hoard will gather in front of the Headquarters Library, 300 Maiden Lane, for free zombie makeup application, a costume contest and photo booth before the walk through downtown Fayetteville. Providing free entertainment for the ghastly group from 6 to 8 p.m. is the Street Ratz Breakdance Crew, Shadows of Fire and Thriller Dance Troupe on the Outdoor Zombie Pre-Party Stage.
City Center Gallery and Books, located at 112 Hay St., will remain open from 6 to 8 p.m. so you can peruse the books and art and enjoy live local entertainment. Market Square Coffee House located at 106 Hay St. will also feature local musicians beginning at 7 p.m.
Don't miss the Dogwood Fall Festival events in Festival Park. The Fall Festival runs Oct. 23-25 and includes Boo and Brew, the Lafayette Insane Asylum and Historic Hauntings. Find out more at http://www.faydogwoodfestival.com/events/dogeood-fall-festival.
For more information about 4th Friday visit www.theartscouncil.com or call 323-1776.