Unique, energetic, heart-pounding, amazing, these are all words that have been used to describe a show that is coming to Fayetteville on Nov. 6, as the Crown Theatre welcomes the world famous Blue Man Group.
The Blue Man Group is currently on a 50-city tour that began at the end of September and runs through April. The show is part of Fayetteville Live, a three-show series at the Crown that also includes Stomp on Jan. 11, 2015 and Celtic Woman on April 8.
The Blue Man Group was originally formed back in 1987 by three men, Chris Wink, Matt Goldman and Phil Stanton. The show they created was a blend of powerful percussion and unique visuals and featured a set of characters that are special, to say the least. The three men donned black jumpsuits, blue face paint and blue bald caps to become the enigmatic Blue Men.
Since those original three men started the phenomena that has spanned the globe, more than 150 more men have donned the blue paint to call themselves a Blue Man. Currently, there are between 80 and 100 men working in teams of three performing worldwide. The group has permanent shows in Boston, Chicago, Las Vegas, New York City, Orlando and Berlin to go along with the touring team that is coming to Fayetteville.
One of the Blue Men who will be appearing in Fayetteville is Mike Brown, who first saw the group back in 1997, when he said he, "fell in love with them and dreamed of working with them." A few months later, his dream came true when he was hired to work on the backstage crew. Brown was classically trained in theater and also played the drums in a series of bands with friends. So, with the urging of friends and family, he answered an open casting call for new Blue Men. He won a spot and has spent the past 11 years touring from city to city as a part of the group.
Brown is excited to play before the local fans. He said that in preparing for the show, he learned of the city's connection to Fort Bragg. Brown said that the prospect of playing before a large military audience is exciting. It is something he has done before and wants to do again.
"We performed at West Point last year and that was amazing. When we got there, we looked out over a sea of cadets all in their uniforms. That was kind of a change because everyone was wearing the exact same thing and our show likes to magnify people's individuality. We had fun using our imaginations with that … it is always exciting for us to be able to give back to those who are serving."
Brown added that The Blue Man Group show is centered on percussive music that is, "very tribal, you are going to feel it inside your body, inside your heart. Hopefully, inside your soul and who you are as a person. Drums are perfect for that because it drives right into a part of your body and your being that you can feel and understand. This energy can build up inside of you. It really is beautifully scored music that will give you goose bumps. You can really expect the music to move through you and, hopefully, elicit a change."
One of the trademarks of a Blue Man Group show is the feeling of spontaneity that the show carries. Brown described the group's preparation and attitude towards their shows, "We want everything about being a Blue Man to represent the 'in the moment' feeling of our show. You want it to feel like a show is happening for the first time and the first time only. In terms of character preparation, when you become a Blue Man you learn the regular things like the blocking and how to play the music and doing certain artistic things.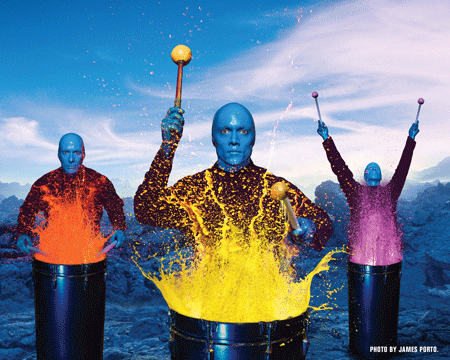 "But there is another element that you can't really plan for, that is just being in the moment and responding with your instincts and your impulses to play from the audience. That is something that you can't really prepare for, but it is very conducive to Blue Men." He continued, "It's all happening for the first time so it is a trial by fire type of thing."
He went on to say that part of being a Blue Man is, "being comfortable with yourself and what is going on around you to just have fun. To let your inner child come out and say, this might be crazy and dangerous but that is the fun of it!"
According to Brown, audiences that attend a Blue Man show are at a loss for words when leaving a show, "Often afterwards, you are not really able to describe it. That's because it causes feelings inside of you that are tangible. It makes you speechless. As we grow up we start to shy away from the types of things that might cause us to get embarrassed, maybe because we don't want to get in trouble. The Blue Men urge you and welcome you to move past that and get to that place where you are like, 'this is natural home-grown fun'. Not only do the Blue Men share that with the audience, but the audience shares that with each other. I have seen people that, by the end of the show, who were strangers, dancing with each other and high-fiving having a great time together. That is the spirit of the show, connecting people in that way. "
Brown encourages everyone to come out and enjoy the show, "Everybody has a Blue Man in them. It doesn't matter if you are short or tall, male or female. We like to use the show to help people find that. Really, there are 6 billion Blue Men in the world … If you want to have the time of your life, come see Blue Man Group!"
Tickets for the show are still available through Ticketmaster.com, by phone at 1-800-745-3000 and in person at the Crown Complex Box Office and all Ticketmaster outlets. To purchase a package of tickets that covers all three shows offered by Fayetteville Live call 888.512.BWAY (2929) and online at www.fayettevilleliveshows.com.
Photo: The Blue Man Group has been entertaining audiences since the late '80s. Fayetteville will get a chance to enjoy their unique sound on Nov. 6.