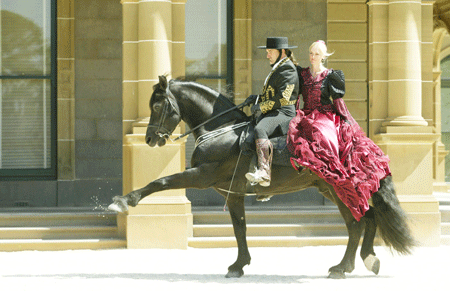 Since their original domestication, horses have been revered for their power and grace. In the hands of a riding master such as Rene Gasser, their beauty and elegance is unrivaled.
Gasser has been training and performing with horses since childhood and comes from a family with generations of experience.
"I was born into it. My family has been training and performing with horses for seven generations. It's a bit in my blood," he said. "You don't always stick with it, but I just love it."
He hasn't been content to just ride for enjoyment. Instead, he has channeled these generations of experience and passion into a magnificent show called the Gala of the Royal Horses, which is coming to the Crown Coliseum on Nov. 28.
This is no ordinary horse show; it is a combination of Spanish flamenco and Spanish horses.
"There are so many highlights, we change between nice and easy and then another highlight. I think one of the most exciting moments is when one of our Spanish horses dances with a flamenco dancer," he said. "The audience gets to see this powerful animal making dance-like movements and hear it on the board like tap dance. And there is so much more, we want that wow factor, that's everything to us. Then we can walk away with a smile on our faces."
It takes more than an ordinary horse to perform with such elegance and precision; it also takes a lifetime with an experienced trainer.
"We really never stop training. They are like dancers or athletes. We have to always keep them fit and mentally well. They do things that a normal horse can't do, so once they are 3 ½-years-old, they are never done training," he explained. "I think that's the secret to the longevity of our horses, the gymnastic exercises. Our horses can keep performing into their late 20s and early 30s."
In addition to the years of training, there is also a large amount of preparation that goes into just a single performance, for the horses and their trainers.
"We work hard to keep the horses in performance condition and to get ready. Some of the horses — their manes and tails are so big that it takes two people an hour to wash them, and they get conditioned, too. But when the audience reacts its all worth it," he said.
Gasser has traveled and performed all over the world, but this year the show is entirely redone for the North American audiences.
"We are using musicians and dancers with the performances, so it's more like a production," explained Gasser. "It's not just for horse lovers, its for anyone who loves a great show. And for horse lovers, we have all these magnificent horses that they can only normally see on television or documentaries, and they are right in front of you. The variety is incredible."
The Gala of Royal Horses is at the Crown Coliseum on Nov. 28 at 7:30 p.m. Ticket prices range from $28 to $78 for ringside seats. The Crown Coliseum is located at 1960 Coliseum Dr. To purchase tickets visit www.ticektmaster.com or call 438-4100. For more information, www.crowncomplexnc.com or www.galaofthehorses.com.
Photo: Magnificent horses flamenco their way into audiences' hearts during the Gala of the Horses, which is coming to Fayetteville on Nov. 28 at the Crown Coliseum.