First they brought us Scott McCreery for a night of country music. Their second show saw the touring phenom Sister Act take the stage. Now for a third show, Community Concerts is bringing in another superstar performer — Trace Adkins.
Adkins is a country music superstar in the purest sense of the word. Since his debut single, "There's a Girl in Texas," reached the top of the charts 18 years ago, Adkins has become one of the most successful country music artists of this era. He has released more than 10 albums and sold more than 7 million records. He has won CMT Awards, Academy of Country Music Awards and been nominated for four different Grammy Awards.
Adkins has even found success onscreen appearing in several movies such as the 2011 hit The Lincoln Lawyer. His most recent onscreen success came in 2013 when Adkins won the 6th Celebrity Apprentice competition on television raising more than $1.5 million for the American Red Cross in the process.
On Wednesday, Dec. 10 at 8 p.m. at the Crown Theater, Adkins will debut his latest artistic endeavor to local audiences when his Christmas tour comes to town for the night. The Christmas Show tour kicked off on Nov. 12, and will run through nearly 20 cities before wrapping up on Dec. 21. The show in Fayetteville is the one and only show Adkins will perform in North Carolina during this tour.
As the name of the tour implies, the show will feature a night of Christmas music performed with the trademark baritone voice that has made Adkins famous. The music performed is a mix of classic Christmas songs and music from Adkin's 2013 Christmas album: The King's Gift.
The album that the upcoming show is based on is a departure from the style of music that has made Adkins famous. The music is deeply rooted in the old Celtic style of music. Adkins describes the music as, "the most beautiful thing that I have ever been a part of." He elaborated on his motivations for taking on this ambitious musical endeavor
."I love this type of music and I always have. I don't know what it is about that music, but it touches me in a primal place," he said. "This was the first opportunity I ever had to actually perform that type of music. I get an incredible amount of gratification from it."
Considering the level of success that Adkins has been able to garner over his career, it was a bit curious that he chose to have The Christmas Show performed before such intimate audiences when he could easily fill substantially larger venues. Adkins explained his reasoning.
"This is a theatre show. It is kind of like a one-man play, which is one of the reasons why I am a nervous wreck every night before I go out there," he said. "It is not what I normally do, I usually just go out there and put my foot in the floor and do a 75 or 90 minute concert. This is different, it has narration — an actual script. This is such a different animal. It really lends itself to theatres."
As Adkins describes the show itself, his passion for the music becomes evident,.
"Musically, this is the most beautiful project that I have ever been a part of. There is a 12-piece ensemble behind me, everything that you need for the Celtic feel. We wanted it to have that very traditional feel. If you had heard these old Christmas carols performed a hundred years ago, they probably would have sounded like this, as far as the instrumentation goes," he explained. "That is really what we were shooting for."
He goes on to say, "I really enjoy doing this show. It makes me nervous and anxious about it every night, but I do enjoy doing it. Standing in front of that 12-piece ensemble every night to do this music is a thrill to me."
Adkins even hinted that this tour could become an annual occurrence in saying, "As long as I can sing these songs to level that I am happy with, I can see myself doing this tour for as long as I can do it."
Considering the population of Fayetteville and it's military and blue collar roots, Adkins is very optimistic about how crowds will react to the show.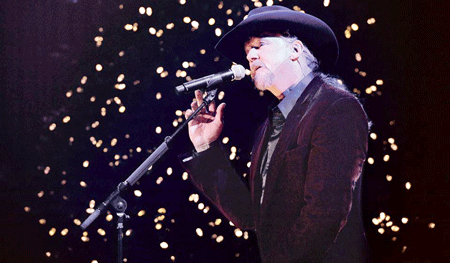 "They will love it! This is just old-school Christmas songs. The people of Fayetteville are the types of people that will have no problem calling it a Christmas show. It is not a holiday show, it's a Christmas show."
Adkins is just as clear about what he would like for audiences to take away from the show itself.
"The King's Gift, the title of the album, comes from the song 'The Little Drummer Boy.' He goes to see the newborn king and he has no expensive gifts to give but he does have his talent; which is to play the drum. That is what he gives, and that is my message to people. The best gifts we have to give to each other don't have price tags on them. They are the gifts of time, talents and love ... If this show doesn't light the fire of your holiday spirit, then your wood is wet," he said.
After The Christmas Show, Community Concerts will be back at it after the turn of the year when they bring Dancing Pros Live to Fayetteville on Feb. 11, The Australian Bee Gees on March 25 and motown legend Smokey Robinson to close out the season on April 16. Tickets for the Adkins show, and the remainder of the Community Concerts season, are available now through Community Concerts' website, Ticketmaster, and the Crown Complex Box Office.