On Dec. 4, 1956, something magical happened and rock and roll history was made. Sam Philips brought together Johnny Cash, Elvis Presley, Jerry Lee Lewis and Carl Perkins for one of the greatest nights in rock and roll history. This is the only night that these four incredible musicians ever played together, and it was so magical that it has been memorialized for future generations through the Broadway musical The Million Dollar Quartet, which is coming to the Givens Performing Arts Center on the campus of the University of North Carolina-Pembroke on Jan. 15.
"First time viewers will be blown away, especially because all the actors are also the musicians," said Colte Julian, a musician who plays the role of Jerry Lee Lewis in the show. "A lot of times people have the tendency to ask 'Whoa! Are they really playing that?' and the answer is yes. We are really playing the instruments, Johnny Cash really is playing the guitar and Jerry Lee Lewis really is playing the piano."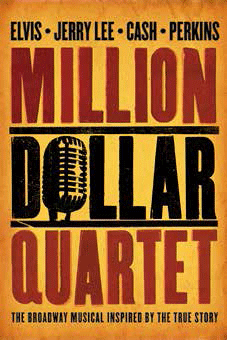 This is his first national tour, but he has performed with the Chicago show for four years.
Julian has a very personal connection and understanding of Jerry Lee Lewis.
"I grew up in a small town in Oklahoma and he grew up in a small town in Louisiana. We both started playing piano when we were little because we wanted to learn the instrument so we learned," he said. "I played a lot of gospel in the church, and I love to play by ear. I loved to find the style of a musician, learn it, and then play a song in a new style, and that's what Jerry Lee Lewis was really famous for. He took country songs and played them in a boogie style.
"We had a difference in education; he, of course, became famous when he was 21. But as far as being a country boy who learned to play the piano because he loved to play and melding country songs with blues style, I did that as a kid before I even knew who Jerry Lee Lewis was," he continued. "But as I've played this part and learned about him, I've really come to respect him and his style."
"I started learning piano when I was 9-years-old. My grandfather was a big fan of Jerry Lee Lewis and Elvis and he introduced me to them," Julian explained. "He said I was going to be the next Jerry Lee Lewis. I didn't believe him, but here I am. "
This personal understanding of Lewis coupled with his experience playing the part creates an incredible ability to not copy, but to become the rock and roll legend.
"It was important that we (as a cast) don't just mimic these men. We don't say a specific word just because they said it, because they wouldn't have necessarily done it the same way twice," he explained. "Instead we have to find the essence of these performers and the style of that person."
With his regional and now national experience, some would wonder if he gets bored with the show. But Julian explains that the concert-like nature of the show provides a great amount of variety. No two shows are the same. Julian's natural love for this style of music also aids in inspiring his performances and avoiding performance ruts. So no matter how many times people have seen it, "No one will sit still. They will all be dancing," Julian says.
Million Dollar Quartet is on stage one night only at 7:30 p.m. on Jan. 15. For more information call 910-521-6287. Tickets range in price from $21 to $36. The Givens Performing Arts Center is located at 1 University Drive in Pembroke.
Photo: Million Dollar Quartet is coming to the Givens Performing Arts Center stage on Jan. 15 at 7:30 p.m.