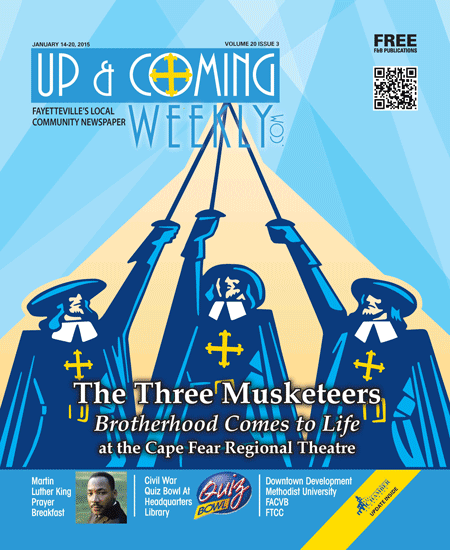 The Three Musketeers is a timeless story. It's one that most people know whether it's from the book, a comic book or one of the countless movies that have been made over the past century. With the Cape Fear Regional Theatre's staging of this classic tale, Director Steve Rankin is staying as true to the story as possible.
"This is a great story that instantaneously puts you in the middle of a sword fight, with men of honor fighting villains," he said. "The way you make this story fresh is simply telling the story. When you start messing around with it, it's the wrong thing to do. This is a story of bravery and camaraderie, of men coming together and bonding over a cause, which is something that is missing in this digital age."
Rankin, a New York-based actor, director and fight director, is excited to bring this story to the stage. It has been one show that has eluded him throughout his career. A longtime friend of Tom Quaintance, Rankin was invited to come as either the director or the fight director. He chose to do both.
"I have staged fights all over the world. In this show, a large amount of stage time is sword fighting," he explained. "It has been a challenge to make it work, but the gauntlet has been thrown and we are going forward."
There are 10 fight scenes during the two hour show, and several of the actors have never even held a sword. It is Rankin's job to make them look like consummate swordsmen. The actors are in their second week of rehearsals and any free time they have is spent in rehearsing their sword play.
Rankin is particularly excited about bringing a story of brotherhood to Fayetteville and its military community.
"This play speaks to loyalty, camaraderie and about having each other's back. This is what it is all about and it should speak to this community," he said.
He explained that in the first scene, D'Artagnan's father sits him down to talk to him about becoming a Musketeer, and he basically describes what it means to be a Marine.
"The only things these guys had was their honor and their name, which was as precious as a mutual fund portfolio. D'Artagnan's father tells him to surround himself with the appropriate people. It was very important that he surround himself with men of honor and men of loyalty. This is something that will really resound with the military community — the idea of 'all for one and one for all.'"
The other idea that will resound is the idea of brotherhood, which is embodied in the spirit of the Musketeers.
Porthos, who is played by Arthur Lazalde, brings to mind the Ghost of Christmas Present. He loves life and sees it as a banquet. He loves to fight. He loves women. He loves his brother musketeers and knows they will always back his play, even if he is wrong. While each of the musketeers are very different, they complement each other and make each other better. Each man serves a purpose, much like modern day Special Forces teams.
Rankin explains that they use their honor to navigate the waters of their times. They also use their humor. There are a lot of plays on words, which makes even the most intense fight scene a little funny. It is not slapstick, but rather a more sophisticated humor.
Athos, played by Shad Ramsey, is a wounded warrior. He knows that it is important to do the right thing, but also knows that there is a price to pay for doing that. Athos knows that you have to continue living but he lives with his pain. He doesn't let it kill him, he goes on and keeps the code of honor, loyalty and bravery that is at the heart of the story of The Three Musketeers. The play opens on Jan. 22 and runs through Feb. 8. Tickets range in price. To purchase tickets, visit the CFRT website at www.cfrt.org.