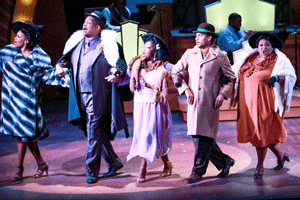 Sunday afternoon matinees at the Cape Fear Regional Theatre are usually fairly sedate. The audience, usually filled with those over the age 60, claps politely, laughs politely and exits politely. That was not the case for the performance of Ain't Misbehavin' that I took in on Sunday.

The crowd, and yes, there was a crowd, filled the theatre. Prior to the show's beginning, they chatted and laughed. It was an animated bunch that came out to enjoy great music and have a good time. People were discussing the music, the play, the theatre. The energy in the lobby was high and the performance on stage only took it higher.

Ain't Misbehavin' is a collection of music by Fats Waller. Waller was the trend setter in jazz music during the Harlem Renaissance. He was a talented jazz musician who tickled the ivories on the piano, as well as the organ. He composed his own music, sang it and presented it in a comedic way. He was also an innovator, developing the Harlem stride style of playing, which laid the foundation for modern jazz. To do justice to a musical revue of Waller's music, it was imperative that the Cape Fear Regional Theatre pull together a talented cast, and they succeeded in doing just that.

The backbone to the cast was, in my opinion, the music, which was directed by Fayetteville native Brian Whitted. Whitted is a nationally recognized entertainer who got his start on the CFRT stage as a child, and returns from time to time to do shows that appeal to him. This show was perfect for Whitted. Without him on the piano, it would not have had the impact nor the appeal. Kudos for bringing such an amazing talent to the CFRT show.

While the entire cast played well off of each other, the heavy lifters were David LaMarr, Tony Perry and
Gigi Ritchey.

Ritchey, also from Fayetteville has a deep, rich voice that reaches all the way down to her toes and comes back out of her mouth as pure gold. Ritchie also has a sense of fun and joy that comes from within her when she sings.

LaMarr and Perry, both national performers, brought comedy, as well as rich voices to the stage. The duo got the audience into the act with their performance of "Fat and Greasy" and LaMarr stole the show with "The
Viper's Drag."

When LaMarr and Perry launched into "Fat and Greasy," the audience was clapping, and hold on to your hats, singing along.
If you see one show this year at the CFRT, make it Ain't Misbehavin', you'll never have as much fun being bad, as you will at this performance. You have one weekend left, so visit www.cfrt.org to purchase your tickets.