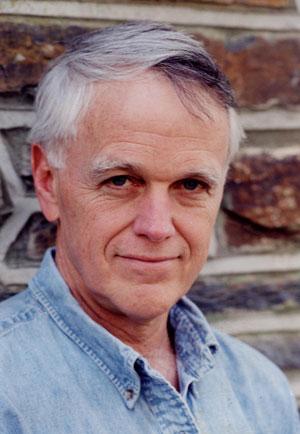 These days, who couldn't use a good laugh? And what better way to enjoy a good case of the giggles, guffaws and sidesplitting laughter than to support an excellent community cause at the same time? Just such an opportunity arrives in Fayetteville when award-winning author and musician Clyde Edgerton presents Wake Up Your Funny Bone: Readings, Stories and Music for the Friends of the Cumberland County Public Library & Information Center's 10th Annual Author Event and Library Endowment Trust Benefit on Monday, Nov. 9 at 7:30 p.m., at the Cape Fear Regional Theatre.
Edgerton, a professor of creative writing at the University of North Carolina-Wilmington, was raised in Bethesda near Durham. He has published nine novels, three of which have been made into movies, and a memoir, as well as short stories, essays and reviews. His numerous awards include a Guggenheim Fellowship, the Lyndhurst Prize, the North Carolina Award for Literature, acceptance into the Fellowship of Southern Writers, honorary doctorates from UNC-Asheville and St. Andrews Presbyterian College and five notable book awards from the New York Times. Five of his books, Raney, Walking Across Egypt, The Floatplane Notebooks, Killer Diller and Lunch at the Piccadilly, have been adapted for the stage, providing an additional special connection to the Fayetteville/Cumberland County area.
"One of my good friends, Tim McLaurin, grew up in Fayetteville, and then also I have a long association with the Cape Fear Regional Theatre and Bo Thorpe," Edgerton said in an interview. "Bo and the people at the theatre have been more open to and receptive of my works that have been adapted to theater than anybody else."
The immense popularity of the stage productions of Edgerton's works at the CFRT is just one part of his strong local appeal, explained Joan Ingalls, member of the Friends of the Cumberland County Library Speakers Committee.
"Clyde has done so much," said Ingalls, referring to Edgerton's multiple accomplishments in teaching, writing and music. Long before he started writing fiction, Edgerton wrote songs, and he's played the banjo and guitar for 35 and 10 years, respectively. "We have this incredible talent in our little corner of the world, and we want to share it." And Edgerton is happy to oblige with his one-man show that offers a sampling of his storytelling and musicianship.
"I'll read from a variety of selections and do a scene from the musical readers theatre The Bible Salesman. I'll also read from The Book of Dads, an anthology of essay by fathers. Mine starts off: 'Before the birth you should go ahead and install the car seat and assemble the crib. This will take four to seven days.'"
All proceeds from the show will benefit the Library Endowment Trust generated by the Friends of the Library, a nonprofit organization whose mission "…is to create an awareness of the services and resources offered by the Cumberland County Public Library & Information Center, to focus attention on library needs and to enrich programming opportunities available to county citizens of all ages." The organization sponsors lectures, exhibits and book talks, as well as quarterly book sales — with one coming up in November — using the money it raises "…for library needs beyond the budget provided by the Cumberland County government."
"The Friends enrich our community's library experience," said Kellie Tomita, marketing and communications manager of Cumberland County Public Library & Information Center. "So much of the extras we do, like the summer reading programs, are due to the generosity of The Friends."
Edgerton is very supportive of such generosity on behalf of the library.
"It's difficult for me to turn down library events especially, because libraries are so important to our culture and life," Edgerton said. "I started reading fairly seriously in high school and can remember the good smell of new library books. The library was especially important when my some of my books started being censored and librarians began coming out of the woodwork –– in my defense."
General admission tickets are $15 and available for purchase at City Center Gallery, 112 Hay St. Tickets for a benefit reception at 6 p.m. in the Glass Block Room at the theater are $85 each or $150 a pair and include program admission, heavy hors d'oeuvres, beverages, a signed copy of Edgerton's book The Bible Salesman and an opportunity to meet the author. For reception tickets, call (910) 483-7727 ext. 119.