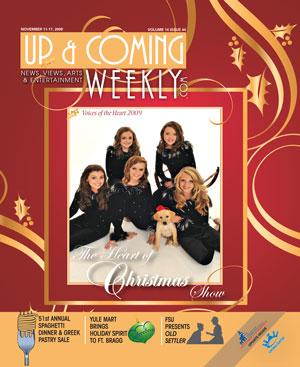 One of Fayetteville's Thanksgiving traditions, The Heart of Christmas Show, is back for its 11th year, and according to Laura Stevens, the director of the show, it's better than ever. The show, which celebrated its 10th anniversary last year, is scheduled for Saturday, Nov. 28 and Sunday, Nov. 29 at the Crown Theatre.
The show has at its base the performers in Voices of the Heart. After winning a national competition in 1999, the members of Voices of the Heart and Stevens decided to take the attention and momentum of that moment and do something good. That something good was The Heart of Christmas Show, which is designed to use children's talents to help sick and abused children. One hundred percent of ticket sales of that first show, or more than $8,000, was donated to the Friends of Children at Cape Fear Valley Medical Foundation. Since that first show, the intent has remained unchanged but the size of the show and the amount of money has grown tremendously, having raised more than $250,000 over the past 11 years for a number of agencies and the public schools.
"When we organized that first show, it was really just supposed to be a one-time deal," said Stevens. "I have to laugh now, because we are in our 11th year, but it's a whole lot bigger effort than it was 10 years ago."
The first show operated on $10,000 budget. Now the budget is closer to $100,000, but all of the money to fund the show is raised before the production ever hits the stage. That allows all proceeds from the show to go back into the community
"It's such a huge production and it takes hundreds and hundreds of man hours to pull it off," said Stevens. "It's grown so much from our school shows, which started selling out three to four years ago. The cool thing about school shows is that we turn what we sell into a fundraiser for the schools. It's been a wonderful fundraiser for them."
Stevens said there are three elements that are key to the success of the show. First and foremost in Stevens' mind, and that of the performers in the show, is the goal of raising money to help children in the community.
"We are here to complete a job. Sing our very best, dance our very best and give the best we have so that people will come and return year after year," she said.
"As the show grows each year, the more people that come, the more money we are able to give away. I hope that some day the kind of checks we are able to give away is $100,000, not $20,000 or $30,000."
"It's also an awesome opportunity for the cast - the 30 something children hand-picked to be in show. It's awesome for them to be in a show of this magnitude," said Stevens. "It's like New York comes to Fayetteville. It's a huge production. These kids get a chance to work on their talent. Several members of Voices of the Heart have gone on to major in music in college, and they say they haven't had as big an opportunity as Heart of Christmas throughout their college career. It's a landmark memory in their mind."
Stevens said the show is a very professional, high-quality show. While a lot of the audience is from Fayetteville, many of them travel to the city from throughout the southeast. Stevens said those folks keep coming year after year, and they are bringing their friends with them.
"Those visitors stay in hotels and eat in our restaurants and turn the weekend into a shopping trip," said Stevens. "So that benefits the community as well."
The third element, which Stevens finds really important is the fact that Fayetteville gets an early Christmas present.
"Fayetteville gets an awesome, home-grown Christmas show, that doesn't have the flavor of home-grown show," she said. "In a city that does have some notoriety for some horrible things, here's one good thing that has been steady for 11 years now. It's a show that Fayetteville can be proud of."
Stevens said the business support for the show has overwhelmed her this year, noting that despite the hard economic times, businesses still put their full support behind the show. "I thought fundraising would be hard," she said. "But the businesses were 100 percent on board."
This year's Voices of the Heart group is one of the youngest Stevens has had. The ages range from 11-15. "We are very excited about this group," she said. "They are awesome in every way. We've been touring every weekend. The audience response has been overwhelming."
Stevens said that folks who attended last year, will still see some of their favorite skits, but they will also see new numbers. "We change the show every year," she said. "But there are some parts that we just can't change, because the audience won't let us change."
Tickets are $12 and can be purchased at Hawley's Bicycle World or at all Ticketmaster outlets. If seats are available, you can purchase tickets at the door, for $18. Group rates are available. For more information, visit www.heartofchristmasshow.com .