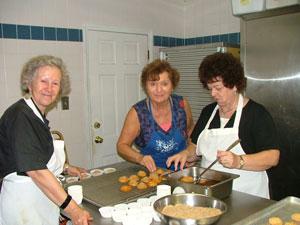 One could call it a "Pastapalooza" when the 51st "World's Largest Annual Spaghetti Dinner and Greek Pastry Sale" takes place on Wednesday, Nov. 18, from 10 a.m.-8 p.m. at the Hellenic Center of Sts. Constantine & Helen Greek Orthodox Church, 814 Oakridge Ave. in Fayetteville. The cost for each meal is $6.00, and tickets may be purchased at the door.
If past years are any indication, volunteers at the church expect to serve approximately 12,000 dinners, according to Fr. Chrysostom Manuel, Pastor Emeritus of the church. The meals, which include spaghetti and sauce, cheese -- and napkins -- are available for takeout only.

"We have a special line for people to pick up 20 or more orders," said Manuel. "Those who bought tickets in advance can call and tell the people who sold them the tickets what time they will pick them up."
The annual fundraiser involves 30 or more volunteers who begin cooking the sauce on Monday, two days before the event. The sauce is a highly guarded secret recipe used only for the dinner.
"It is a very good sauce," said Litsa Da Rosa, church secretary. "It's made of all natural ingredients."

In addition to two tons of pasta and hundreds of gallons of sauce, volunteers will make and sell Greek pastries. Baklava, phyllo dough filled with honey, walnuts and pistachios; kourabiedes, almond shortbread-type cookies; koulourakia, lighly sweetened butter cookies and finikia, honey-dipped walnut cookies, will be available for purchase individually or by the box.

"We are also going to have homemade breads and pound cakes," said Da Rosa.

Proceeds from the annual dinner event go to charities, both local and out of town.

"Ten percent goes to city charities like the Care Clinic, the Autistism Society and the Red Cross," Manuel said. "The church also contributes to an orphanage in New York State and the theological school in Boston. We want to thank people who come and support us."

For more information, call the church office at 686-2010 or the Hellenic Center at 484-8925, or visit the church's Website at www.stsch.nc.goarch.org. Organizers say the whole event takes about three days to prepare, with many people working 13-hour days. The cost for each meal is $6. All proceeds go to local charities as well as an education center that is being built at the church.