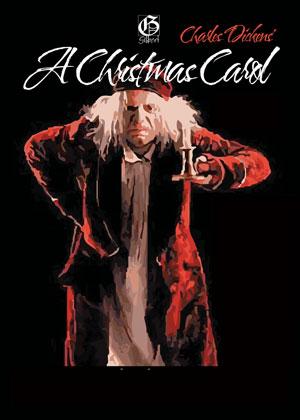 Don't panic. Christmas is still a few weeks away, but the signs of the season have started to emerge. One of the most prominent is the performance of the Charles Dickens' classic, A Christmas Carol, at the Gilbert Theater.
"[A Christmas Carol] is Charles Dickens most popular novel," said Lynn Pryer, director.
Dickens wrote 37 books, but this was his most well known. He wrote it in October of 1843, during a time when he was having fi nancial trouble. Although he was already famous at the time, his most recent books weren't doing well. According to Pryer, Dickens got the idea for this story, and he wrote it in just six weeks. His usual publisher wouldn't publish it, so Dickens had to publish it privately, and it was a huge success from that very fi rst Christmas.
"We have taken this play, this novel, and adapted it ourselves, but this is just a long, long line of adaptations," said Pryer.
Even though the book came out in December 1843, the fi rst play came out in February 1844, it was that appealing.
"This play lends itself beautifully to theatrical format, and there have been just so many movies and adaptations," said Pryer.
"He went on to write a Christmas book every year, a total of fi ve, but this was his most enduring one. I think this is because it's a story at Christmas time, a story of redemption which is a recurrence in our lives, and it's very appealing to people…we like to see people change for the better," explained Pryer.
Pryer, the founder of this award-winning theater, said that his goal is to make the audience "feel extremely taken care of, warmly and thoughtfully taken care of" as they watch this Christmas classic in one of the theater's 99 seats. He also noted, "There's not a bad seat in the house." Performances of A Christmas Carol will start appropriately as Fayetteville celebrates a Dickens Holiday on Nov. 27 and will run through Dec. 13.
Throughout the day during the Dickens Holiday, you will fi nd the cast roaming the streets bringing their characters to life. As you pass through downtown and enjoy the sites and the sounds of the season, don't be surprised to encounter Ebeneezer Scrooge, or perhaps the Ghost of Marley. Participation by Gilbert's actors brings a touch of realism to the day, as well as adds excitment for the production.
Performances are on Thursdays, Fridays and Saturdays at 2 p.m., and 8 p.m., as well as Sundays at 2 p.m. There will be no performance on December 10, and on Dec. 5, the 8 p.m. show is already sold out. Tickets are $10, and can be paid in cash or checks only. Reservations are highly recommended.
To reserve seats you can e-mail the theater at gilberttheater@ aol.com or call 910-678-7186. Large group discounts are available, and groups over 10 are asked to prepay reservation tickets. Gilbert Theater is above Fascinate-U museum at 116 Green Street.