The holiday season this year brings not only the jingle of bells, but also the mystical ring of the Middle Eastern zils or fi nger cymbals when Sharifa Asmar and Qarisma Dance present Sa'hra Sa'eeda, an evening of Middle Eastern dancing and happiness with family and friends, on Saturday, Nov. 21 at 7 p.m. at the Masonic Lodge of Fayetteville, 2860 Village Dr.
"It is a perfect start for your holiday season," Sharifa said during a recent phone interview. "The hafl a or dance party will feature classic Middle Eastern dance entertainment with Qarisma Dance students, instructors and guests artists, such as Oriental Expressions from the Triangle area and Ra'eesah Ra'naa from Greenville, S.C. The decorations will present a feelin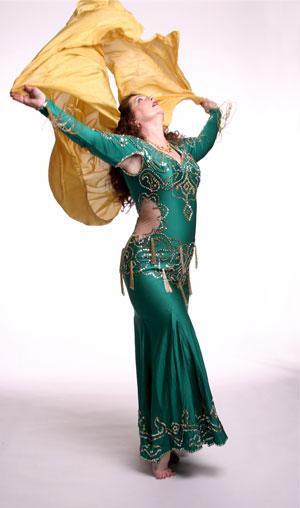 g of a Middle Eastern nightclub."
Asmar, who has danced for more than 25 years, is known for her authentic, classic Oriental style. She has studied with many well-known dance masters and internationally known dancers, from New York to California, as well as Europe and North Africa. Her dance repertoire includes Egyptian, Lebanese and Turkish styles and regional North African and Arab- Asian dances. Though many describe Oriental dance as "bellydancing," Asmar explained why she prefers the terms Oriental or Middle Eastern dance.
"The term bellydance is culturally loaded, on a negative side," Asmar said. "It's Oriental dance or Middle Eastern dance, which encompasses the Oriental and the folkloric dance. It's shrouded in the ancients, right up there with the pyramids, 5,000 years and counting. It's the oldest continuously performed folk dance that we know of," said Asmar, "and Oriental dance at its modern source today is a communal dance. It's a party dance. It's social. When they turn on that music, it's what everybody does."
While Asmar has primarily performed as a solo act, in 2006 she brought her dance company, Qarisma Dance Arts, to the Charlotte Dance Festival –– the fi rst and only Oriental dance company to perform there. That same year, she received a Regional Artist's Grant from the Arts Council of Fayetteville/ Cumberland County.
A recognized resource for quality Middle Eastern Oriental dance education, Asmar offers workshops and currently teaches be
ginning, intermediate, advanced and performance Middle Eastern dance through Parks and Recreation at E. E. Miller Recreation Center in Fayetteville. Many of the dancers who will perform at the Sa'hra Sa'eeda include some of Asmar's intermediate and advanced students.
"I started in a parks and recreation program in Las Cruces, N.M," said Asmar, who also holds degrees in history, political science and foreign languages. "I'm one of two in that fi rst class who are still dancing!"
In addition to having a good time, doing a little dancing, and being treated to solo and group performances, guests of the hafl a will enjoy light refreshments and may peruse the vendors' tables.
"It's a family-friendly event," Asmar said.
Tickets are $7.00 per person or $15 for a family, to include two adults and two children aged 10-18. Children under 10 are free with a paid supervising adult.
For more information on Sa'hra Sa'eeda or Qarisma at the upcoming World Holiday Festival on Saturday, Dec. 12, at the Crown Arena in Fayetteville, visit www. sharifaasmar.com.