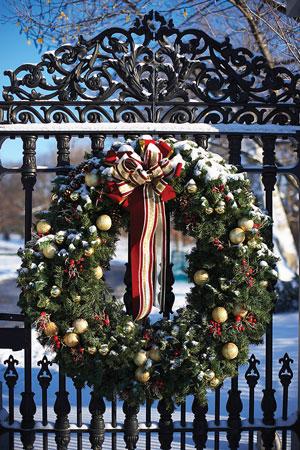 Whether your vision of the holidays is a Martha Stewart style banquet with friends and extended family, a scene from a Currier and Ives print or the down-home, wholesome goodness of a Norman Rockwell piece, there is just something about this special time of year that calls for honoring traditions, celebrating with friends and family and decking the halls with fi nery.
A long standing tradition in its own right, is the Downtown Alliance's Candlelight Loft Tours on Dec. 13. Thanks not only to the new properties downtown, but also to a surge in the downtown population, there will be 12 to 15 homes on display this year.
"I compare it to the parade of homes, only this is a parade of lofts," said Chris Villa, Downtown Alliance loft tour co-chair. "And this is going to show people what it is like to live downtown and some of the places they could live."
According to Villa there will be a wide range of lofts on display, older, newer, as well as plenty of newcomers who have not been a part of the tour before.
"I am really excited that we are going to have the loft above Mcduff's Tea Room on the tour," said Villa.
"And of course, we have David McCune's loft which is in the new townhouse...and I am trying to get somebody in the 300 block project."
On the night of the tour, stop by the Downtown Alliance offi ce at 222 Hay St. before beginning the tour. You'll receive a wrist band, a program and a map. Luminary paths will light the way as visitors seek out the lofts they are interested in viewing (see them all or only one or two, it is up to you). Volunteers will be on hand at each property to guide visitors through the lofts and shed a little light on downtown living.
Doors are open from 5-8 p.m. Tickets are $10 and can be purchased at the Downtown Alliance offi ce, Rude Awakening Coffee Shop, City Center Gallery and Books and The Pilgrim.
Woman's Club Tour of Homes
For a totally different take on holiday decorating, check out The Woman's Club of Fayetteville Christmas tour of homes. Dr. & Mrs. Joshua Barkman, Dr. & Mrs. Bradley Broussard. Mr. & Mrs. Christopher Cates, Dr. & Mrs. Walter Greene, Kay & Jim Jones and Lt. Col. and Mrs. Gregory Politowics have all agreed to showcase their homes and invite the community to enter in and partake of their hospitality.
For a $10 donation, visit these six lovely properties decked in holiday cheer on Dec. 6.
"The home owners that have opened their beautiful homes, friendly doors and lovely decorated homes and all their hard labor are helping to make this happen," said Betty Muncy, Woman's Club of Fayetteville tour of homes coordinator.
"I have been the coordinator for seven years, but it takes our whole club — all of our club members to participate — to join in. We have fun, plus we hope to make some money."
Founded in 1906, the Woman's Club of Fayetteville promotes civic, cultural, educational and social welfare of the community. Money raised by the tour of homes (which is their largest fundraising event of the year) is used to preserve and restore Heritage Square. The Sandford House, Baker-Haigh-Nimocks House and the Nimocks House are all in need of repair, and it is women of Fayetteville who have taken up the cause to preserve these historic landmarks.
"All three are listed on the National Register of Historic Homes," said Muncy."We hope to keep them preserved for future generations."
The tour runs from 1-6 p.m. Call 485-1555 or 483-6009 for more info or to purchase tickets.
Kings Grant Holiday Tour of Homes
Residents in Kings Grant are opening their doors and their hearts to benefi t the children of Falcon Children's Home. On Sunday, Dec. 6 from 4-7 p.m., several homes in the community will be on display during the fi rst holiday tour of homes. Tickets are $12 in advance and $15 the day of, and can be purchased at the Kings Grant gate house. For more information, contact Jackie Carter at 488-6670.