Methodist University and Friends of Music present the 11th Annual Holiday Gala Concert on December 8 at 7:30 p.m. in Reeves Auditorium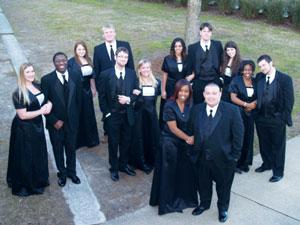 .
"The holidays would not be complete without the annual Methodist University Music Department Holiday Gala," said Michael Martin, director of choral activities and music education at Methodist University. "It features Methodist University students in solo and ensemble performances." The featured ensembles are Methodist University Chorale, Methodist University Chamber Singers, Methodist University Women's Chorus, The Noblemen Men's Chorus and assorted small instrumental groups.
"The music is a mixture of different types of holiday material," said Martin. "The Noblemen will sing an a capella version of 'We Three Kings of Orient Are.'" Martin added that people should come to be entertained by a variety of music and not just Christmas carols.
Friends of Music was created in order to provide community and alumni support for the Department of Music at Methodist University. FOM has been successful arranging faculty-student concerts, concert receptions, endowed music scholarships, professional guest artist concerts and master classes. The goal is to bring excellence in music to everyone in the community.
"This holiday concert precedes the final music department's concert of the semester on Dec. 11 at 7:30 p.m.," said Martin. "It will be held in Reeves Auditorium and the Symphonic and Jazz Bands will perform."
Admission is free. For more information call 630-7158.