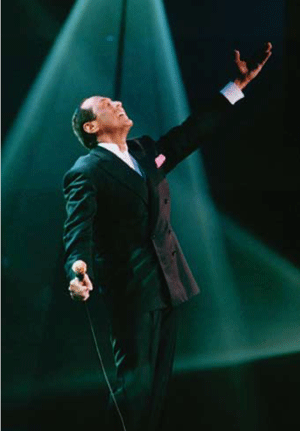 In the '50s, Paul Anka had teenage girls screaming. Today, the girls have gotten a little older, as has Anka, but they still thrill to his music and his ability to entertain an audience. On Tuesday, Jan. 26, Fayetteville will welcome the legendary showman to the Crown Theatre as part of the Community Concerts series.
The mission of Community Concerts is a simple one — to bring the fi nest in top-notch entertainment to Fayetteville. It's something they've been doing successfully for the past 74 years, and the impact it has on the quality of life in the community is more far reaching than just great entertainment. The organization supports outreach programs for Boys and Girls Club members and deserving seniors as well as music clinics for youth and a music scholarship fund.
This year's season opened with the Doobie Brothers in October. The nearly sold-out event garnered an impressive response from concert goers who have come to expect nothing but the best from this series.
"We've been fortunate to enjoy a lot of support and because of that we are able to bring in top-notch acts," said Community Concerts Marketing Committee Representative Kristy Meave. "Community Concerts brings an important quality of life impact with it. When people have one more fun thing to do on a weekday evening it is good for the whole town. We've been doing this for a very, very long time. The town was much smaller 74 years ago and as the town has grown the acts have grown, too. We got a lot of positive feedback from the Doobie Brothers concert it hit our target audience."
"Paul Anka has been a heart throb since the 1950s," said Meave. "In fact, he was a heart throb while he was still a teen."
A singer/songwriter with decades of staying power, Anka has recorded more than 125 albums, including 10 in other languages. His worldwide sales top 15 million and he has authored more than 900 songs, 130 of which have been recorded by other artist including "It Doesn't Matter Anymore" (Buddy Holly), "Shes a Lady" (Tom Jones), "Puppy Love" (Donny Osmond) and "My Way" (Frank Sinatra).
Born in Ottawa, Canada, in 1941, Anka knew he wanted to be a singer and songwriter at a very young age. By the time he was 13, he was singing wherever he could fi nd an audience. Now, all these years later, he is still thriving on stage and delivering great shows to his audiences.
According to www.paulanka.com, Anka is not showing any signs of slowing down.
"He works not for fun, not to eat, but because one must. However, these days he works when he wants to work, where he wants to work. 'I perform because I still need to,' he says. 'It's one of those things that's in your blood. Because, in the beginning, people didn't come to see me because I was a performer. They came to see me because I had a hit song. Now they come because they know I'll give them a performance like no one else.'"
Meave is certain that Fayetteville will get a show that they won't soon forget.
"He's such a crowd pleaser and he loves to wow people. I'm sure he will sing all the favorites, which span decades, as well as a few of his newer songs. He is such a wonderful performer, I think that the audience will be pleased."
The show starts at 8 p.m. Tickets can be purchased through Ticketmaster ( 800 745-3000) or by calling the Crown Box Offi ce at 438-4100.