For the past three years the Cumberland County Public Library System and the Fayetteville Symphony Orchestra have joined forces to present a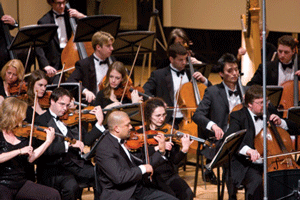 lecture series and pre-concert to provide a preview to the community of the compositions to be performed in the coming FSO season.
"The pre-concert presentations are part of our education program and target adults in the community," says Fatrice Currie, education coordinator of the FSO.
Funded by the North Carolina Arts Council's Arts and Audiences grant, the Symphony @ Your Library Lecture Series is free, informative and can be of interest to all ages.
Audiences experience a style of music that evokes an array of emotions as lecturer, Joanna Hersey, intermittingly shares details about the lives of the composers, the music and the time period. Hersey is an assistant professor at The University of North Carolina at Pembroke and a tuba player. FSO musicians joining her for the series at the Headquarters Library in downtown Fayetteville are: Dr. Tim Altman, Trumpet; Dr. Larry Wells, Trumpet; Steve Skillman, French Horn; and Nikki McCaslin on Trombone.
"Ms. Hersey will delight the audience with interesting, and sometimes humorous historical and cultural facts about the composers and their compositions that will be performed at the next concert on Feb. 6," says Currie. Hersey and fellow musicians will expose the public to the exciting lineup in store for the FSO's new season. The season includes William Grant Still's Afro-American Symphony in celebration of Black History Month for the Feb. 6 concert at Seabrook Auditorium, located on the campus of Fayetteville State University, a program that also features the suite from Stravinsky's Firebird Ballet. The March 13 concert at Methodist University's Reeves Auditorium highlights Beethoven's powerful Symphony No. 4 as well as Vivaldi's lively concerto, and features Altman and Wells who are participating in the Symphony @ Your Library series. The May 1 season fi nale, also at Reeves Auditorium, includes Mussorgky's Pictures at an Exhibition along with other exciting pieces that showcase the immeasurable talent of the FSO.
"This is our third year of the series with the symphony, and we're glad to give people a taste of what's upcoming," says Jane Castro, CCPL Headquarters Services Manager.
The first of three presentations from the Symphony @ Your Library series is Jan. 27 at the Cumberland County Public Library Headquarters in the Pate Room from 7-8:30 p.m.