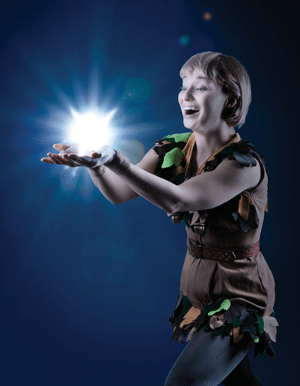 Megan Ellis and Dirk Lumbard agree on one thing: There's a little Peter Pan in all of us.
That being said, the two veteran actors are leading a merry band of indians, pirates and Lost Boys, on a merry romp through Neverland and into the community's collective imagination as the Cape Fear Regional Theatre brings Peter Pan to life.
The story is one that is beloved by generations and Ellis, an Oklahoma native who is revisiting the musical for the third time in her career, hopes to bring its magic to the community.
"I want the audience to sit back and remember their childhood. Maybe they'll take a close look at their own lives and see how everyone has a little Peter Pan in them," she said. "There are many adults who are not able to hold on to that spark of fun and magic and still remember how to play. Maybe this performance will remind them of that — maybe give them that spark back."
If Ellis had lost that spark, she was sure to have found it over the past weeks of performance. Bringing Peter Pan to life, Ellis has been in constant contact with the cast of local children who make up the Lost Boys. "I've never had a better character study," she said. "it's great to play with this bunch of boys. I'm learning a lot from them. They are so economical in their movements and they are so uninhibited. They are teaching me so much."
Not that Ellis has a lot to learn about Peter Pan. This is her third performance in the musical; however, it's her fi rst time in the leading role.
"Playing Peter is a dream come true for me," she said. "I've been an understudy but never made a performance on stage. I just love the magic of the story and this opportunity is just amazing."
Lumbard, a veteran on the CFRT stage concurs with Ellis on yet another point. Throughout his long career he has never had the opportunity to perform in Peter Pan, and when it was offered to him by Director Bo Thorp, he jumped.
Lumbard will play duals roles, that of the father and Captain Hook. While both are important, it is the role of Captain Hook that has him the most excited.
"I grew up watching the Mary Martin television production of Peter Pan," said Lumbard. "Cyril Ritchard, who played Captain Hook in that version was a comedic genius. He has always been an idol of mine, so this is a dream come true for me."
Lumbard said that while Hook, in the eyes of the Lost Boys, is the essence of evil, he is really not a very good villan. "He has a band of cutthroat pirates who really aren't very good either," he said. "It's very easy to make him a very foppish character with his long black wig and hook."
The hook has been something Lumbard has had to concentrate on throughout rehearsals. "It would be very easy to hurt someone with it," he said. "So I've worked very hard with it."
He, and the rest of the cast, have also worked very hard on the fi ghts scenes. "Megan has been a great help to us in that area," he said. "I haven't done any sword fi ghting in about 15 years, so I really had to get in shape."
The cast will also take fl ying lessons in the week prior to the opening. The show is very physical, and Lumbard noted that safety is of prime importance.
Like Ellis, Lumbard has had a great time working with the local actors who are bringing to life the pirates, indians and Lost Boys. "For many of these children, it's been a great opportunity to get a taste of professional theatre with the professional sets and lights," he said. "They have been so much fun."
The musical opens on Thursday, Jan. 28 and runs through Sunday, Feb. 21. Ticket prices range from $15 to $28, and can be purchased by calling the CFRT Box Offi ce at 323-4233. For more information, visit the CFRT Web site at www.cfrt.org.