Beautiful maiden. Jealous stepmother. Jiving mirror. It's a classic fairy tale — with a twist — when Fayetteville State Theatre brings Snow White to the stage of Butler Theatre on Thursday and Friday, Feb. 18 and 19, at 9:30 and 11:00 a.m., with an additional show on Friday at 7 p.m. All seats for the shows are $3.00, and teachers are free.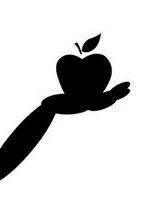 "This is not Disney's Snow White," said Phoebe Hall, director of theatre and associate professor of speech and theatre. Written by Tim Kelly and directed by Susan B. Paschal, assistant director and assistant professor of speech and theatre, this version of the beloved tale of enchantment features not only a jive-talking mirror, but also "a band of happy minors," Hall said. "Sarge, Gabby, Gloomy Gus, Ticklish, Spritely, Snore and Slowpoke. It has a slightly different spin than Disney's version."
The play is an annual event that started in 2001. Each February, FSU offers the community a children's play. Paschal has a special interest in children's theatre. She teaches a course, Children's Theatre for School and Community, and is also director of the children's worship arts program at Brownson Memorial Presbyterian Church.
"Periodically we do new scripts and adaptations," said Hall. "Snow White features students and community members performing for elementary students. It is a oneact play and lasts about an hour. It is open to the public only on Friday night. In fact, the morning shows are sold out."
The February performance is only part of the theatre company's commitment to sharing live theatre with children and the rest of the community. The FSU Touring Company, as part of the performance laboratory class, can arrange to bring impromptu theatre presentations to schools, organizations and meetings, enhancing curriculum or meeting topics while making learning fun and entertaining. Anywhere from three to a dozen actors can present students with an opportunity to participate with improvisational actors to practice skills in creative, critical and imaginative thinking on their feet. The program members can even arrange to customize their exercises to fi t a special topic.
In addition to offering children the magical experience of live theatre and that special interaction between audience and performers that one simply can't derive from television or movies, the FSU Theatre Company makes a Snow White study guide available for teachers.
"Just email me at phall@uncfsu.edu for a copy," Hall said. "It includes all kinds of activities for children."
And the company's Web site offers a guide to theater etiquette for those who have never attended a live performance — or may need a little reminder — at www.uncfsu.edu/theatre/fsu_drama_guild.htm.
For more information, call (910) 672-1006, and for reservations for Friday evening's performance, contact FSU's ticket manager, Antoinette Fairley, at (910) 672-1724. And come share a bite of the "Big Apple."