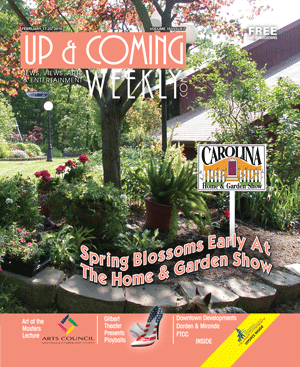 Spring — sunshine, warmer weather and that mile-long to do list. Whether it is the fl ower beds that need some love, the deck that could use some refortifi cation or that cabinet that needs refacing, the Carolina Home & Garden Show offers inspiration, ideas and endless possibilities for turning your home or garden into the retreat you crave. With about 175 booths and 85 vendors, daydreamers and do-it-yourselfers alike will fi nd something to get excited about at the Crown Center Feb. 26-28.
Special guest Roy Underhill, of the PBS series The Woodwright's Shop, will be speaking several times on Saturday.
"He is going to do three 30 minute demos working exclusively with vintage hand tools," said Natalie Woodbury, Home Builders Association of Fayetteville executive offi cer. "When he is not on stage he'll have a display where people can come and talk to him.
"Underhill is not the only dynamic presentation planned for the three-day event. George Quigley will speak on green landscaping while Shauna Haslem will cover vegetable gardening. The lovely Camellia will have its day in the sun when Jim Darden delivers a 30 minute demonstration.
Roger Mercer will be on hand as well, hosting a question and answer session about gardening. Other topics will include container gardening and gardening for kids.
Woodbury is excited about the vendors this year and the wide range of services they offer.
"We've got everything from cooking items to gutters to exterminators to carpet and landscaping," she explained.
As in past years, each day has a theme. Friday, Piedmont Natural Gas is sponsoring Go Green Day. Saturday is Kids Day and will be sponsored by Fayetteville PWC. Military Day falls on Sunday and is sponsored by Weaver Homes.
"Saturday we will have a jump castle for the children and two sessions of kid's gardening," said Woodbury, adding that "The Weaver Homes booth will be handing out food vendor coupons to military ID card holders on Sunday.
"There will be musical entertainment by the John Parson Band and the Northwood Temple Senior Band as well, which is an addition from last years booths. Even the vendors will have their own treat to look forward to this year. The Kidsville Kids will be performing at an after hours event on Friday, Feb., 26
."The Kidsville Kids represent Kidsville News! in promoting the values that the publication stands for — literacy, developing talents and achieving goals," said Kidsville Kids director Joy Cogswell.
"We'll be performing a good variety of pieces for the vendors ... we're doing ragtime, rock-n-roll and a patriotic piece, too."
Look for door prizes and handouts galore throughout the weekend.
Woodbury noted that one of the bigger prizes is a $2,000 landscaping make-over from Green Biz.
"Something people need to know is that this is a great opportunity because all of these wonderful businesses will be under one roof," said Woodbury. "You don't have to go from place to place looking for different items and there really is something for everyone in the seminars we have planned with these experts talking about so many different topics."
Friday, the doors open at noon and close at 6 p.m. Saturday, the show is open from 10 a.m. to 7 p.m. and Sunday hours are 12 p.m. to 5 p.m.
Tickets are $6 at the door. Visit www.carolinahomeandgardenshow.com for presentation details and more information on the vendors or give the Home Builders Association of Fayetteville Inc. a call at 826-0648.