So now that the Super Bowl is over, what are you going to do? The quarterback for the New Orleans Saints went to Disney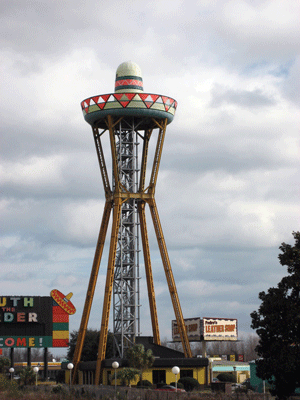 World. Instead of going to Disney World, I went to South of the Border. It's the world's greatest roadside attraction. The quiet artistry and subtle delights of S.O.B. can never be visited too often.
I made the visit to learn what new and exciting Chinese products are being hawked in Dillon. The fi ne variety of novelty items on display at S.O.B. continues to amaze. However, I am concerned with the lack of tourists frequenting the premises. In a nutshell, the place was a ghost town. The Great Recession has cut deeply into the number of travelers stopping at S.O.B's Sombrero Room. For a buck you can write your name on a cut out paper sombrero to staple on the wall like the Paleolithic cave dwellers in Lascaux, France. Having your name stapled to the ceiling of the Sombrero room is a form of immortality.
Take some money to S.O.B. soon or it will be as much a thing of the past as the Toyota. The must see sites are the Emporium which has cool novelty items and Fort Pedro which sells the most excellent fi reworks in North America. There were two sales people in the Emporium and I was the only customer during my 20 minute visit. A large box of fake doggy doo is the fi rst thing that greets you when you walk in the door. Apparently the demand for fake doggy doo is down and supply is up. If you need a set of shot glasses held up by plaster alligators, S.O.B. is the place for you.
A flock of ceramic chickens stands watch above the "lovely to look at, delightful to hold, but if you break it, consider it sold" sign. One can never have too many ceramic chickens. The Wee Willie Squirter urinating dolls are still on sale. You can buy an entire village of 10" tall artifi cial Mexican peasants for only $6.95 each. A pack of drunken Chihuahuas nestled next to a tequila bottle was available.
The black velvet art collection is the ne plus ultra of velvet classicism. Black velvet Native Americans, howling wolves, elephants, soaring eagles and pitt bulls are yours for a mere swipe of the Master Card. Wooden back scratchers with life like fi ngers abound for only $1.50. Every size of fake snake known to man can be purchased. Coconut head pirates that shiver your timbers patrol above the raunchily risque Horny Hillbilly in the adult section of the store. I bought three Pedros on a stick for only $1.Next stop was Fort Pedro which has enough fi reworks to destroy all of Iran's enriched uranium in one afternoon. I am a real fan of the names given to fi reworks. Fireworks are a manly item designed to explode in a shower of sparks and make manly noises like the aftermath of a Super Burrito meal. The "Really Bad Momma" package has a crazed mother talking on the phone with two screaming infants. You can take Momma home for only $35.95 and "shoot fl aming balls" at anyone you like. The Big Bang collection is a six foot tall box of fi reworks that sells for a cool $699.95. It contains artillery shells with comet tails, festival balls and purple shooting stars. A bargain at twice the price.
The TNT Bruno collection boasts maximum powder allowed by law. Who could resist the Pyromaniac selection in its 4 foot tall box with the politically correct "Cave buster" rockets to blow up the al-Qaeda terrorist on your block? There are still many New Millennium Y2K Celebration boxes for sale for $137 each. Guess Y2K didn't come in with as big a bang as S.O.B. had hoped.
You can write gunpowder Haiku with the names of the fireworks: "Hicktown Heaven/ Unleash the Beast/ Twinkling Bees/ Almost Illegal/ Bone Breaker/ Take Cover/ Wake the Neighbors/ Red, White and Boom/ The Annihilator/ Glorious Crazy Explosion/ Fountain Supreme Delirium" Words to live by. The Fourth of July cannot come soon enough.
My favorite was the Pirate Skull collection of crackling comets which noted "For best view face this side towards spectators." Those instructions were ambiguous. If you pointed that side towards the spectators, did that mean that the spectators would get the best view of the explosions or the guy lighting the fi reworks would get the best view of the crackling comets slicing through the crowd of panicking spectators? As the King of Siam once said, "It is a puzzlement."