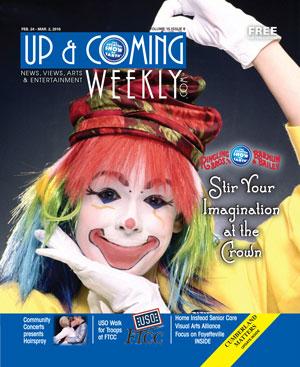 When it comes to splendor, excitement, edge-of-your seat anticipation and downright giddiness, not much beats the circus. The crowds, the lights, the music, the clowns, acrobats, trapeze artists and large beasts mixed with some peanuts, cotton candy and a medley of other bad-for-you-yetdelicious treats can be darn near close to heaven for the audience — young and old alike.
On Feb. 25 the Ringling Bros. and Barnum & Bailey® will roll into town to put Illuscination in the center ring.
"It is a little different than a traditional circus," said Director of Marketing and Sales at the Crown, Frank Zaccaro. "We have the gold version coming in and I know that Ringling Bros. is doing something really special with this version."
One of the main differences is that each ticket purchase includes a preview hour.
"People can come and meet the performers, learn to juggle, walk on the low wire and try on circus costumes that have been used in other shows," said Ringling Bros. and Barnum and Bailey® Production Manager Jason Gibson. "It really is fun to watch people interact with the performers and then just light up when they see them later performing in the ring."
This particular production is called Illuscination, and like the name implies, there is a magical experience for all who enter the arena. Forget the trapeze, David DaVinci attempts a daring escape from a straight jacket while dangling above a den of lions. His act includes 10 colorful winged assistants — a Toucan, an African Grey, Cockatoos and Macaws. Magic and drama are front and center when DaVinci steps into the ring. d
"DaVinci is our illusionist and he weaves his magic act throughout the entire show," said Gibson. "Most illusionists perform with people sitting in front of them, but David works with people watching him from every angle. It is quite amazing to see him in action."
What circus would be complete without the splendor of the wild, primal power tamed, or at least trained, and on display? There will be performing elephants, lions (including a magnificent, white male lion) and ponies, and even house cats – all expertly trained and ready to entertain and amuse the audience.
"The male lion knows he is glorious, too," said Gibson. "You can hear the crowd gasp when he walks in because
they've never seen anything like him — and he really responds to that."
Ahh, bring in the clowns. As part of their routine, Trio Caveagna use trumpets and saxophones to bring oomph to their act. While they still hold true to the wackiness of classical clowning, look for a modern kick to it, too. This award winning act has won the Bronze Medal in the 2004 Passauer Festival and a Bronze and Silver Medal at the 2005 and 2006 Festival International de Namur.
We've all seen tight rope walkers, but Francleib Rodrigues takes it to a whole new level when he walks upside down in his aerial foot loop act. No nets. No harnesses. Just an inverted hop skip and a jump, so to speak, across the ceiling.
"You really have to be here," said Zaccaro of the Illuscination tour. "It's an experience that they (the public) can't miss. If you love the traditional circus, this will be all that and then some."
The hour before the show is Gibson's favorite part of each performance, because he loves to watch people have fun talking to the performers. He said there really isn't a part of the show that he doesn't thoroughly enjoy. In fact, he cautions, "Be sure to get your cotton candy and popcorn before the show starts because once the performance begins, things just don't slow down."
While the acts named above are just a small peek at what is in store, Gibson hopes that folks will remember that it is all put together with them, the audience, in mind. "We make our living making people smile. It is the best job in the world," said Gibson. "This show really is for kids of all ages. Our show is about giving people a wonderful experience that they will remember forever."
The show runs through Feb. 28. For more information and ticket prices, contact the Crown Box Offi ce at 438-4100 or visit the Web site at www. atthecrown.com or tickets are also available at Ticketmaster.com and all Ticketmaster outlets..