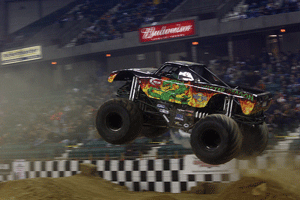 Monster trucks will roar into the Crown Coliseum on Friday, March 12 and Saturday, March 13 for a jumping, crunching evening of fun.
The shows will feature some of the biggest and best monster trucks on the circuit, including Eliminator, Twisted Dragon, Dragon Fly, Viper and Defender. Additionally the evening will feature an extreme freestyle motorcyle FMX show much like what you see on the X Games and Dew Tours. The riders will jump from ramp to ramp doing tricks more than 60 feet in the air. There will also be an aerial assault acrobatics team featuring back-fl ipping rider Tyler Polk.
If that's not enough for you, local riders are also invited to bring out their bikes for a "winner take all" competition of humps, bumps and jumps. To participate, pre-register at www.amptour.com. The pit gate will open at 5 p.m.
Fans will also have the opporunity to meet their favorite driver during a pre-show party that begins 90 mintues prior to show time. All ticketholders will be admitted free to the party.
Tickets range in price from $15 to $30, with VIP tickets available. There are also two package deals, with a VIP Party 4 Pack offering three VIP tickets with one free, which offers a $25 savings. The Family Fun Pack allows you to take a family of four out for under $50 and includes two adults reserved seats and two children's reserved seats.
Shows begin at 7:30 p.m. on both nights, with gates opening 90 minutes earlier for the pre-party.
For more information, visit www.amptours.com or www.atthecrown.