Somewhere, in a daydream-fi lled science class way back when, we learned that carnivores eat meat, herbivores dine primarily on plants and omnivores munch on both.
But a relatively new critter has linked up with the food chain: the locavore.
The WHAT? The locavore. The term, according to Wikipedia, was coined in 2005 by Jessica Prentice, professional chef, author and founding member of Three Stone Hearth, a community-supported kitchen in Berkeley, Calif., and selected by the New Oxford American Dictionary as its word of the year in 2007. A locavore is "a person who seeks out locally produced food," and their numbers are growing every day as people choose to consume seasonal foods that they either raise themselves or that are produced within a radius of 50 to 150 miles of their abode.
But why? Sounds like a lot of extra effort when we have supermarkets fi lled with a seemingly unending variety of food available year round. Shoot, we can get blueberries, peaches, watermelon, apples — almost anything — in the dead of winter. Why wait until they're "in season"?
Locavores offer many reasons for their food-source preference. Local food travels less and has a smaller carbon footprint. Buying local means money stays in the local economy. Locally produced food is fresher and riper –– farmers don't have to pick it early, so it won't be damaged in transit, and the nutritional value is greater. And choosing local food allows you to meet some of the folks that grow your food and share their stories. Still others are concerned about food safety. But tops among reasons for joining the locavore movement are that local food tastes better –– can the taste of a peach allowed to ripen on display even touch the juicy sweetness of one picked at its peak just a few hours before one bites into it? And supporting local farmers and ranchers helps them to stay open and preserve undeveloped land, all vanishing resources in a world of increasing big-corporation farming.
Residents of Cumberland County are fortunate to enjoy several opportunities to join the ranks of local "foodies." For those willing to get a little dirty, backyard gardens may bless them with more tomatoes than they and their neighbors can eat. And those without access to a yard can grow their own food while building community at the Fayetteville Community Garden, located in the Old Wilmington Road community at the corner of Vanstory and Mann Streets in downtown Fayetteville. A project of the Sandhills Area Land Trust (SALT) and a member of the American Community Garden Association, the garden celebrated its grand opening last spring.
"It took us five years to get a tomato plant in the ground," said Candace Williams, executive director of SALT. "This was one of the SALT projects to save urban agricultural lands, and we're the only land trust to accomplish this goal. We're on the cutting edge, and we've been recognized nationally –– one of our garden interns was featured on the cover of the National Land Trust Alliance publication, Saving Land, last fall."
Once a vacant lot with beautiful old pecan trees, the garden's fi ve acres, historically used by African-American farmers, are owned by the city and are the centerpiece of an area slated for redevelopment under a Hope VI grant.
"The Fayetteville Community Garden was the brainchild of Candace," said Nancy Talton, SALT contracts and grants administrator. "She had experience establishing some of the fi rst community gardens in Boston. SALT partnered with the city, public works and other various community organizations to come up with a vision of what they wanted the garden to be. That's the key to our success. We haven't spent a dime on the gardens. Everything has been donated. PWC put in the water. The community leaders all came together." Landscape architect Jeffrey Blake donated the design, which will ultimately include a community pavilion, gardener's sheds, playgrounds, rain garden, fl ower and woodland garden, fruit trees and orchards, raised cultivated planters, arbors and trellises.
"There will be 100 available garden plots. We rent them on an annual basis for $25. It's open year round during the daylight hours. Everything is organic. They've got a compost pile going. The fi rst potting shed is complete, and it's really cute. The plots are all raised beds, about 20 x 20 feet. Water is available to each plot, and the gardeners share the cost of the water. It's just been wonderful."
Presently 70 plots are complete, and work has started on the gazebo. For more information, contact Candace Williams at (910) 483-9028 or visit http://acga.localharvest.org/garden/M2116 on the Web.
Those who don't wish to play in the dirt and grow their own food may still reap the benefi ts of locally produced food at the Fayetteville Farmers Market. Starting with four or fi ve vendors three years ago on Wednesdays only, the open-air market in historic downtown Fayetteville has grown to 14 or 15, "the most we've ever had," said Melissa Rodriguez of the Farmers Market. In addition to Wednesdays from 3 to 7 p.m. in the overfl ow back parking lot behind the AIT and old Prince Charles Hotel on Maiden Lane, the market is now open on Saturdays from 9 a.m. to 1 p.m. in the Cumberland County Parking Lot off Gillespie Street in front of the courthouse.
"We've seen quite an increase in people coming and vendors applying," Rodriguez said. "We take applications once a year. Our requirement is that vendors have to grow their product within a 50-mile radius of Fayetteville. Vend0rs may now bring 25 percent of their products from other farms, but it still has to be local and labeled. We are about 50/50 organic, and most farmers practice minimum spraying."
The market r
uns all summer and will open on Saturday, April 10.
"This year, we're coordinating our kickoff with the Sustainable Sandhills' Urban Farm Tour," said Rodriguez. "We'll have special guests, including the Cumberland County Beekeepers and George Quigley, a master gardener who will give talks on gardening and address questions. We're planning other events throughout the season, such as contests for basket giveaways and a tomato-tasting day, to help us get the word out." For more information, visit www.thefayettevillefarmersmarket.com, email info@thefayettevillefarmersmarket.com or call (910) 964-8559.
Joseph and Vicky Allen own Carolina Grown, Inc., "a food cooperative connecting average consumers with farmers throughout North Carolina." After enrolling, co-op members select a flexible subscription level based on a point/box size system instead of a flat fee per box, and weekly, monthly or yearly billing. Sunday through Tuesday, members may choose the products they want from a menu that features grass-fed beef; pasture-raised pork, duck, rabbit and chicken; organic produce; local sustainable produce; cage-free chicken and duck eggs; fresh herbs; goat cheese products and dairy products. They may use all or some of their points, and any remaining points are rolled over for use the next week. On Saturday, Carolina Grown delivers a box of products grown or made in North Carolina right to the member's door!
"Everything is from North Carolina," said Allen. "We actually became accepted as part of the Goodness Grows in North Carolina program two weeks ago."
Allen explained that the point system allows members to customize their purchases.
"We label the products so people know from whom it comes. Eventually each farmer will have his or her own page on the Web site. People know exactly what they are getting. They pick favorites based on personal taste."
The fastest-growing coop in North Carolina, Carolina Grown has more than 200 members. Orders are double checked as they are put together, and Allen will refund points before selling bad products. "We have excellent quality control." Allen said. "We let the farmers set their own prices. We deliver 52 weeks a year, and we're looking for new farmers."
When asked where he got the idea for Carolina Grown, Allen replied that he had seen the movie, Food, Inc. "Afterwards, I didn't want to buy at the grocery store." Part of Carolina Grown's mission, in addition to providing healthy food from North Carolina, is to "help sustain local farms and the local economy."
"I grew up on a farm. I don't want to see them all auctioned off and turned into subdivisions."
For more information or to enroll, visit www.carolinagrown.org, email sales@carolinagrown.org or call (919) 720-9484.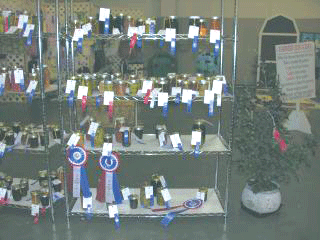 The Cumberland County Center of the N.C. Cooperative Extension offers instructions on how to preserve backyard or market bounty so you can enjoy it all year long. Depending on the food, one can dehydrate, freeze or can items for longterm storage. Candy Underwood, extension agent for Family and Consumer Sciences, sees a real increase in the number of people who want to "put up" their own food.
"People are getting back to growing their own food for safety reasons in the food supply and because it just tastes better," said Underwood. "We're offering a canning class for the pressure canner on June 17 from 9 a.m. to 12 noon. We will process green beans. People can bring in two pounds of green beans, and they will leave with a quart jar of canned beans."
The class is limited to 10 people and costs $5. The canning jar and lid are provided, as are handouts on canning.
The Cumberland County Center is open from 8 a.m. to 5 p.m. Monday through Friday. For more information, visit http://cumberland.ces.ncsu.edu/ or call (910) 321-6860.
Whatever the reason –– a healthful diet, concern for the environment, supporting local and sustainable small farms, avoiding food-borne diseases, saving money in a challenging economy or because food acquired locally simply tastes better –– the locavore movement is gaining momentum, providing nourishment not only for the body, but also for our communities.