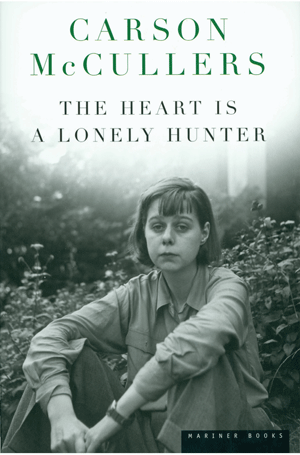 With The Big Read now in full swing, we hope you have already attended one of Cumberland County Public Library and Information Center's special events associated with this year's novel The Heart Is a Lonely Hunter by Carson McCullers.
One reason The Heart Is a Lonely Hunter was chosen is because McCullers fi nished writing it while living here at Cool Springs Tavern on North Cool Springs Street. But, what happened after she departed from Fayetteville to New York City?
As the keynote speaker for The Big Read on April 6 at 7 p.m. in the Pate Room of Headquarters Library, author of February House, Sherill Tippins will tell us about that fascinating time.
Tippins first learned about that part of McCullers's life while volunteering for a program that delivered meals to the elderly and homebound in her Brooklyn, N.Y., neighborhood.
According to the publisher of February House, Tippins was intrigued when one of those neighbors began telling her about the "extraordinary experiment in communal living — involving a British poet, a southern novelist, one of the world's great opera composers, and a celebrated stripper — that had taken place 60 years earlier just a few blocks from her home."
From those stories, Tippins began collecting facts and anecdotes about that shared life of W.H. Auden, McCullers, Jan and Paul Bowles and Gypsy Rose Lee.
With her work complete, February House was published in 2005 and chosen as a Best Book of the Year by the San Francisco Chronicle.
For more information about Tippins's visit and other The Big Read programs, go to www.Cumberland.lib.nc.us where you can download a Schedule of Events or stop by your nearest library location.
The Big Read Programming Notes
Programming takes place throughout April and includes a recycled art show and contest, movies, Depression Era kitchen gardens, activities for children and more! Admission to all programs is free.
Our community partners include: Cumberland County Schools, Charles W. Chesnutt Library, Fayetteville State University; Davis Memorial Library, Methodist University, Fayetteville Technical Community College, Fort Bragg John L. Throckmorton Library and the Museum of the Cape Fear.
Cumberland County's The Big Read is sponsored by The Friends of the Library, The Fayetteville Observer, Up & Coming Weekly, The Drive 96.5 FM and KISS 107.7 FM.
The Big Read is an initiative of the National Endowment for the Arts (NEA) designed to restore reading to the center of American culture. The NEA presents The Big Read in partnership with the Institute of Museum and Library Services and in cooperation with Arts Midwest.