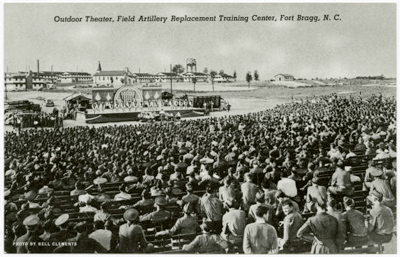 Before Fort Bragg was Fort Bragg, the area was home to Camp Bragg, but what was there before the establishment of Camp Bragg? Get on the bus and find out!
Join the Fayetteville Area Transportation and Local History Museum on Saturday, Oct. 13, for a tour of historic sites on Fort Bragg. The bus will leave the museum at 8 a.m. for a day-long tour of the Old Post Historic District, Long Street Presbyterian Church and the Old Argyle archaeological sites, conducted by historians from Fort Bragg's Cultural Resources Department. The cost is $3 per person.
While this is the first early Fort Bragg history tour hosted jointly by the Fayetteville Area Transportation and Local History Museum and Fort Bragg's Cultural Resources Department, the museum has previously worked together with Fort Bragg, noted Bruce Daws, historic properties manager for the City of Fayetteville.
"We've worked in conjunction with Fort Bragg in the past on a tour of the Rockefeller property and Monroe's Crossroads," said Daws, "but the way this tour is structured will be the first time that we've done it. The Cultural Resources Department employs archaeologists, and they get a lot of archaeology out of Fort Bragg. A lot of it is prehistory and Native American, but then they do archaeology on sites related to the earlier Camp Bragg. They also have archaeological historians that oversee — similar to our Historic Research Commission — the old part or any historic buildings."
The tour will include the old Long Street Presbyterian Church that dates back to the 1750s.
"The church was surrounded by a little Argyle community, so we'll talk about archeology that they've done out there," Daws said. "It was a very early settlement in a very early church. We'll actually get to go out there and tour the inside of the church. It is surrounded by a beautiful cemetery with a stone wall around it. There's a mass Confederate grave of the solders killed at the Battle of Monroe's Crossroads."
The original Long Street Church dates to about 1758; the current church on site is a later church from 1847.
"It's a beautiful wood-frame church, a kind of Greek revival-style church," said Daws. "It was part of that land acquired by the army when they established Camp Bragg in 1918, so they had to kind of displace this congregation and a bunch of people who lived on that land which would later make up Fort Bragg. The United States Government entered into an agreement that it would always maintain the church."
Interestingly, the church is available today for services in a number of different forms, Daws explained.
"I think there is a group of descendants of people who worshipped there that meet there annually. The Fayetteville Independent Light Infantry does an annual worship service out there. The military has used it on occasion for special services. So it's a real jewel. It has not been modernized. It is an outstanding time capsule. There are no heaters or air conditioners. It's just very, very intact and represents what it looked like when it was built in 1847. And it's set in a very rural-type setting off of Long Street."
In addition to the church and Argyle archaeological sites, participants will also tour the main post area. Daws explained that the main post area generally centers around the current corps headquarters for the XVIII Airborne Corps and all the brick buildings around the post built after Camp Bragg changed from camp status to fort status in the 1920s.
"It's going to be a very interesting look at early Fort Bragg, and when we talk about early Fort Bragg, we're going to talk about the land and what was there before the establishment of Camp Bragg, and then we'll look for remains of the early, early post, which in 1918 was essentially established as a tent city," Daws said. "Then there was some built environment, and then there was a greater drive to build it once it achieved fort status in the 1920s."
While much of the tour will take place from the bus, it will involve some moderate walking. Tour guests should also bring a lunch and beverage for a picnic at Wilson Park. Daws stressed that participants must have a valid photo ID to be admitted on Fort Bragg, and space for the tour is limited, so preregistration is required.
To preregister or for more information, please call (910) 433-1457, (910) 433-1458, or (910) 433-1944.
Photo: Long Street Church is one of the many sites that the tour will visit.