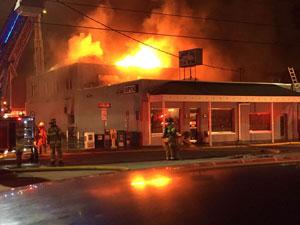 Since the end of World War II, Fayetteville's Hamont Grill & Steak House was the place to eat, meet and greet friends and neighbors. All those years of local history, much of it legendary, went up in flames Saturday, April 9. Fort Bragg soldier, Staff Sgt. Terry Deitrich and his wife, were the first to report the fire about 3:30 a.m., said Assistant Fire Chief Kevin Morgan. The Fire Engine 2 crew, stationed just a block away, requested a second alarm on arrival.
"I am half-dead," Pete Skenteris said. He's owned the restaurant for 60 years. Everyone who was anyone ate there over the years. "Mayors, senators, congressmen, presidents — all been here," Skenteris added.
There were no injuries. The walls of the two-story building are still standing, concealing the devastation inside. Fire officials said the roof collapsed on the gutted interior of what can only be described as a total loss. Memorabilia and framed photos of the rich and famous which Skenteris had collected over time were lost.
Skenteris said the restaurant closed at its regular time Saturday night and there was no sign of trouble. "We have a list of things we do every night," he told reporters. "We check the stoves, check the grill, the hood fans. We check everything."
Fire units from at least six city fire stations responded to the blaze and attempted an attack from the roof where flames had broken through from below. But firefighters were evacuated from the building fearing the roof would collapse. Engine 2 was still on the scene after daybreak to sniff out hot spots.
The restaurant's original owner, Steve Fermanides, opened the business as a sandwich shop and later expanded the dining area. He sold the business to Skenteris in the mid-1950s. Fermanides is responsible for the iconic Hamont Grill sign atop the building. The city declared the sign an historic landmark thereby allowing it to remain despite a new sign ordinance.
Sexting and Sextortation
Cumberland County Schools held a seminar warning middle and high school students about the very real dangers of sexting. South View High School was the scene of the workshop on the consequences and dangers of sexting and sextortion. Remember the time when if you liked a boy at school you'd pass him a note? Today, the disturbing new trend in teenage flirting is sending nude or semi-nude photos from cell phone to cell phone. It's called sexting. While the X-rated offerings are usually intended just for a boyfriend or girlfriend, the photos often wind up being shared.
Social media and teenage girls can be a risky combination. Girls still want "likes," but the lengths some are willing to go to get them — whether it's revealing a tearstained face after a breakup or a close-up bikini shot — put them at risk for online sexual aggression, emotional trauma and damage to their reputations. Finding authenticity is a struggle for teens…always has been. It's a natural part of growing up. Social media is the place girls go to get real. In her book, American Girls: Social Media and the Secret Lives of Teenagers, Nancy Jo Sales says today's girls are coming of age in a culture that normalizes exhibitionism. One in four kids reports being sexually harassed by friends online. But at the same time, revealing too much — for example, nude photos that go public — gets you blacklisted on public "slut pages."