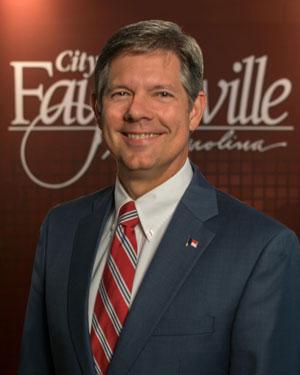 Another city manager has been shown the door in Fayetteville with the abrupt resignation of Ted Voorhees on April 11. Contrary to what many people believe, we at Up & Coming Weekly, do not take his departure as a victory in any sense. Matter of fact, when you examine Voorhees' tenure with the city and his relationship with the community, it becomes evident that his demise was not only predicable; it was inevitable.
Our city has gone through way too many city managers in the past two decades to think the flaw is with the man. And, I am not buying into the fact that they know and accept that their career life expectancy is only four to five years on the job. John Smith was Fayetteville's City Manager from 1981 to 1997. He was an excellent city servant. I'd say that's a pretty good record before the City Council fired him. They wanted Smith terminated because he wouldn't fire Police Chief Ron Hanson, who was accused of racial discrimination in the firing of four Fayetteville police officers.
Sure, they gave Smith the same options as Voorhees, resign or be fired, but Smith, being a man of character and principle, refused. He chose to do his job honorably and standup for Chief Hanson and what he believed was good for the community. As a result, Smith kept his character and principles, but lost his job and went on to bigger and better things elsewhere. (Side note: Chief Ron Hanson was cleared of all charges and allegations against him.)
What's the point and what does that have to do with recent action at the city? A closer look at the situations that lead up to Voorhees' departure will indicate that there is plenty of blame to go around, with most of it belonging to City Council. Like in the HBO miniseries Game of Thrones, when striving to commandeer power, there is never a happy ending. The treacherous path and impending doom is described throughout the mini-series as "winter is coming!" In this case, Voorhees has vanished in a blizzard.
There are many things that contributed to his departure. First, it must be understood that Voorhees was a good hire. No doubt he had the qualifications, and during his tenure he demonstrated that he was intelligent, analytical and talented. Unfortunately, he was not a leader. Matter of fact, it probably was this deficiency along with his faulty judgment that ultimately cost him his job. Voorhees never acted like a person who had even the remotest desire to embrace the community that he was hired to serve. He arrived on the scene bold, arrogant and defiant. He made it known from the get-go that he was hired to shake things up, get things done and resurrect and elevate Fayetteville's status to the caliber of other North Carolina cities.
His persona wasn't natural. It was as if someone else was controlling his actions, a secret confidante whispering instructions in his ear, feeding him information and directing him on what policies to pursue and actions to take. All the while giving him this Teflon-like confidence and (false) sense of security, since he thought the actions he was undertaking were legitimate and that he was doing what was good for the citizens and what the city council mandated.
The first indication that something was terribly wrong came when he referenced the dissolution of the PWC Board, merging departments and raiding PWC's coffers. What? Voorhees hadn't even been on the job long enough to know the names of PWC management, let alone pass judgment on their competence, management style and community commitment. It quickly became apparent Voorhees was getting his marching orders from outside source(s), and the information he was acting on was misdirected and misguided.
Members of City Council must share the responsibility for his dismissal and the costly replacement process that must be addressed. Many of our newly-elected freshmen Council members failed to embrace their positions.
Anyone who attends or watches the City Council meetings on TV observes how grossly unprepared some of these councilmen are for the meetings. It is doubtful that they actually have an understanding of the basics of a city manager form of government. They are failing in their responsibility to understand how our local government should work. This is evident in the conduct of their duties and responsibilities. It is obvious that they did not read their council packets, which contain information about what will be discussed at the meeting. These packets are designed to prepare them to discuss and analyze the issues. Lack of knowledge led to their dependence on Voorhees for information and direction. He became a Pied Piper of sorts because it was easier to take instructions from him than it was for them to do their own homework and due diligence on city-related issues. Eventually they became pawns doing his bidding. This is one of the reasons the city and PWC are now engaged in a legal dispute. Even some of our senior council members made themselves subservient to Voorhees' wishes to the point that the perception was that City Council worked at the pleasure of the city manager rather than the other way around. Bizarre.
Voorhees' failure to address the massive complaints from builders and developers about the way the building inspectors operated within the city limits and the inconsistent enforcement of the city's Unified Development Ordinance was another major point of contention. At one point, this negative situation spiraled out of control with major developers threatening pull out of Fayetteville or declaring they would never return to Fayetteville and Cumberland County.
At its worst, the Fayetteville Regional Chamber was asked to create a board of about 15 involved local citizens to discuss the U.D.O. and voice concerns and recommendations for improvement. To my knowledge, little was done with that information, no improvements were made and the inspection department continues to run amuck to the detriment of local businesses. The net result has been ongoing discourse and a crippled economic development program at a time when fostering and nurturing economic development to create jobs within our community is one of our highest priorities.
Bottom line, I never felt Ted Voorhees was his own man. From the beginning, Voorhees was spoon-fed information from outside power brokers who used him to do their dirty work while he thought he was taking a shortcut to power. His downfall came from not taking the time to know or understand this community. He trusted the wrong people. Then again, as long as Fayetteville maintains nine separate districts, and those nine district councilmen continue to focus only on their districts and constituents, not much is going to change in the future with or without a competent city manager.
Voorhees' resignation concludes another chapter in Fayetteville's sordid history book. We can again start anew confident that we are our own worst enemy. I hope some lessons have been learned. Since we are starting over, let's hope that Fayetteville will consider this: How about getting beyond the race issue? It only holds us back and consumes way too much of our positive energy, time and money.
I contend that citizens of Fayetteville and Cumberland County do not have a race problem. I don't see it. I I have never experienced it. I contend that race discrimination only exists with those people, organizations and institutions that profit from this kind of discourse.
We should not encourage or endorse such behavior. Rather, we should focus on what is good, right and beneficial for all Fayetteville and Cumberland County residents. Doing the right things, for the right reasons always works. Voorhees is gone, however, the situations, people and circumstances that caused this costly disruption in management are not. Let's hope everyone involved has gotten a lot wiser. I support the mayor and applaud Council's actions in the dismissal of Voorhees. Until it becomes evident that every City Council official is dedicated and serious about embracing the responsibilities of being an honest and competent servant for the City of Fayetteville, I cannot support four-year terms. Four years will be too long (and costly) to deal with ineptness. Agree?
Thanks for reading Up & Coming Weekly.