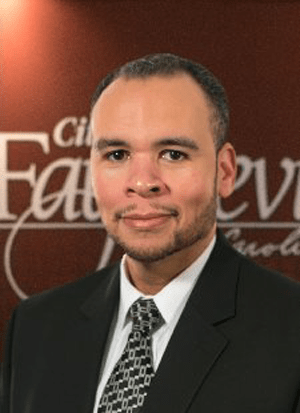 Interim Fayetteville City Manager Doug Hewett is taking personal responsibility for management of the city police department.
Hewett tells Up & Coming Weekly in an exclusive interview that he intends to oversee the police and fire departments, relieving Deputy Manager Kristoff Bauer of that responsibility.
"I believe the scope of public safety requires that the chiefs report to the manager," Hewett said. He pointed out that former Chief Tom Bergamine reported to then manager Dale Iman. Hewett served with Iman as an assistant city manager. He returned to city government last year and was confirmed by city council last week as interim city manager.
Hewett acknowledged that he had been made aware of Police Chief Harold Medlock's discontent resulting from former manager Ted Voorhees' decision allowing Bauer to take oversight responsibility for police operations. Medlock would not confirm or deny that he told Mayor Nat Robertson he was considering resigning. The chief said that when he came to Fayetteville three years ago his understanding was that he would answer only to the city manager.
"I shared my concerns with the mayor, and, it's behind us now." the chief told Up & Coming Weekly.
"I am very supportive of the realignment," said Robertson. "Eliminating a level of management will make the departments operate more efficiently."
Hewett said he had no idea of the changes city council was making on the night of April 11. He was home watching the Council meeting on TV when it went into executive session. An hour and a half later Mayor Robertson announced that Voorhees had submitted his resignation.
"I was very surprised," Hewett said, when he got the phone call from Robertson asking him to take over as interim manager. "Having known Ted for a number of years I was concerned."
Voorhees brought Hewett to Fayetteville several months ago to serve in a senior management planning role with the business community.
"The relationship between the manager and council is one that must be close, and when priorities change job security is sometimes called into question," said Hewett.
The 45-year-old Hewett served as a Fayetteville assistant manager from 2004 to 2012. He has known, and in most cases worked with, other members of the senior management team for many years. Asked about community changes he's noticed since his return, Hewett said he was "so excited to see a conceptual framework of the multimodal transit center actually come out of the ground." It was a project he had worked on in its infancy. He recalled that the State Veterans Park was still in the planning stages when he left.
"We have jobs to do as the city moves forward on the parks bond projects, economic development, public safety and more," he said.
The manager added he will have a plan for involving council and the community in building our referendum projects. He says he wasn't surprised that the bond passed.
"The time was right, it was significant," added Hewett. As for his future, Hewett says he hopes to exhibit a management style that results in a "great relationship with city council." He hasn't said whether he'll seek the post permanently.