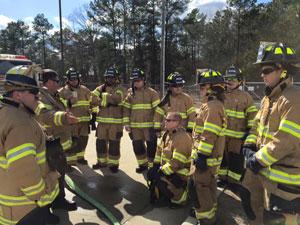 Interim Fayetteville City Manager Doug Hewett introduced the public to his budget proposal for the fiscal year, which begins July 1. He went over the budget in somewhat greater detail with City Council members last week. He and his senior management team met with councilmen in small groups of two and three, something former manager Ted Voorhees started last year. The intimate sessions give Hewett an opportunity to feel out each council member without them being influenced by others.
Most city employees will get what's called a mid-point two-percent merit pay raise. The city will share an increase in healthcare costs with employees. Public safety continues to be one of Council's top priorities in FY17. A fire department step pay plan, which was initiated this fiscal year, will remain in effect. The police department has had a step plan in place for several years. Hewett is proposing education incentive bonuses for firefighters. The education incentive will benefit rank-and-file firefighters through the rank of lieutenant. "We must groom fire department leaders of tomorrow now," Fire Chief Ben Major told Up & Coming Weekly. Hewett's plan will reward firemen with associate degrees with an extra $1,500 annually. Those with baccalaureate degrees would receive an additional $3,000. "My concern is what to do about those above the rank of lieutenant," said Councilman Bill Crisp. "Currently they receive only what's appropriated in the annual overall pay plan." Crisp has said he intends to champion the cause of firefighters who until last year were left out of public safety pay increases. "We need a happy fire department," added Crisp.
With the new fiscal year, the city will begin building an escrow account to support payment of parks and recreation municipal bond sales. Those bonds will be sold over a seven-year period to build $35 million dollars in new and refurbished facilities. In March voters approved a tax increase of $.0135 per $100 of assessed property valuation. Those improvements won't begin for at least another year yet. Council is just beginning the process of establishing a detailed financial plan to prioritize projects. Construction of half a dozen splash pads will likely be among the first projects.
In his budget message, Hewett proposes an operating budget of nearly $226 million across all funds except for the city-owned but independently operated Public Works Commission. The PWC budget will be presented to Council separately. The new ad valorem property tax rate will be $0.4995 which includes the parks bond referendum increase. "Our desire in achieving your goals is to keep our customers — our residents — in mind throughout the entire process, knowing that we serve them," said Hewett.