Fayetteville City Council surprisingly said "no" to a vote of the people in November on whether terms of office should be changed. Councilman Larry Wright floated the idea of changing members' terms from two to four years. A majority of Council was against the idea, but publically supported putting it to a referendum. That all changed last week when council voted 5-5 against any change. A tie vote kills the plan. The proposal would have divided candidates for City Council into two groups to serve staggered four year terms. Staggered terms wouldn't have allowed an entire council to be held accountable. The codes of ordinances for most, large municipalities in North Carolina provide for two-year terms of office.
Chamber Hires New CEO – Again
Fayetteville Business Consultant Darsweil Rogers has taken the reins as Chief Executive Officer of the Greater Fayetteville Chamber. He succeeds Rodney Anderson who unexpectedly submitted his resignation last week. Anderson retired from the Army in 2012 as a two-star general, and was hired by the Chamber six months ago. Rogers will serve as president "for an unspecified time and will focus on continuing the action plan presented in the Task Force 2025 report at the end of last year," according to Chamber Chairman Brian Kent. Anderson has decided to pursue other business interests according to Kent. Chamber insiders are disappointed that membership continues to decline from what it was 20 years ago when it peaked at 1,500. Kent says the roster today is 750 members, despite a concerted effort to recruit new business people. Rogers also serves as Chairman of Fayetteville's Public Works Commission. He brings more than 30 years of experience in business and finance. He spent many years on Wall Street and specializes in executive business coaching and management training.
Troops Return Home
Soldiers of the 18th Field Artillery Brigade headquarters are back home at Fort Bragg following a nine-month deployment to the Middle East. About 100 soldiers and their families were reunited at Pope Field. The brigade colors were uncased, symbolizing the unit's return. The unit headquarters commanded all U.S. Field Artillery elements the U.S. Central Command area of responsibility. They provided targeting, coordination and synchronization of long-range-precision firing. Central Command is responsible for the U.S. military presence in 20 nations including the Middle East.
The 18th Field Artillery Brigade is America's contingency Field Artillery Brigade supporting its parent XVIII Airborne Corps as well as Special Operations Forces.
Fort Bragg Extended Day Care … Someday
Additional available child care is making a difference for some military working parents, especially those in the Navy. The program hasn't yet been implemented in the Army. The added flexibility is relieving stress that can happen when work stretches beyond 6 p.m. - closing time. Too often, parents find themselves racing to pick up their children at military child development centers. "If I don't get to day care on time, I feel like I'm a horrible mom," Navy Lt. Rita Johnson told the Military Times. She and her husband are among hundreds of military parents who have benefited from Navy and Marine Corps child development centers extending their operating hours. They open at 5 a.m. and close at 7 p.m. The Army expects to complete its analysis by the end of May and will likely start increasing day care hours at some locations in October, according to Army spokesman Dave Foster. Secretary of Defense Ash Carter has extended those extra hours of operation to all the service branches.
City Recognizes Excellence
Fayetteville residents are asked to nominate city employees for its Core Values Award. It's a program that recognizes City employees for their exemplary performance. The program is designed to recognize and increase employee engagement in providing excellence in job performance on behalf of the City's customers … it's citizens. All City employees are eligible for recognition and can be nominated by fellow employees and the community at large. The deadline for the upcoming July Core Values Award program is May 31. For more information, including the form, visit the City's website at www.FayettevilleNC.gov/CoreValuesAward.
FSU Professor honored
Fayetteville State University's 2016 Excellence in Teaching award winner is Dr. Heather M. Griffiths. She's an associate professor of sociology and has taught at Fayetteville State University for nine years. Her movie reviews appear in Up & Coming Weekly each week.. Griffiths uses teaching methods that encourage active learning such as debating contemporary issues. She challenges her students to understand the interplay of race, gender and class by guiding them through discussions that focus on the complexity of various perspectives. In 2010, she developed a lower-level sociology course called The Global Society. The course introduces students to pressing worldwide issues, equips them to live and work in a globally interdependent world and encourages them to become responsible citizens. In one letter of support, a student wrote that, "her class discussions were thought-provoking and forced students to think outside of the box on various social issues and problems." Griffiths holds a bachelor's in sociology and a bachelor's in anthropology from Millersville University of Pennsylvania. She earned her master's from the University of Delaware in 2003, and her PhD from the University of Delaware in 2007.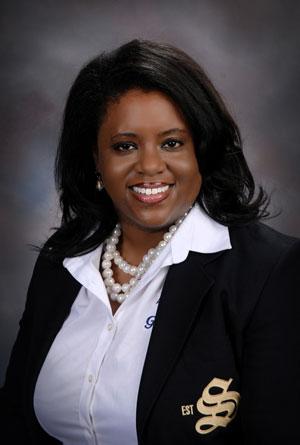 E.E. Smith Principal Melody Chalmers Named Wells Fargo North Carolina Principal of the Year
There's something about being the headmaster of Fayetteville's E.E. Smith High School. Principal Melody Chalmers is the 2016 Wells Fargo North Carolina Principal of the Year. She is the third Smith principal among four in Cumberland County to be selected for this honor in the 33-year history of the Principal of the Year competition.
"Melody is known as an innovative problem solver who is committed to the academic and personal growth of each of her students and teachers," said State Superintendent June Atkinson.
The 18-year veteran of public education received a bachelor's degree in English education from North Carolina A&T State University and a master's in school administration from Fayetteville State University. She has served her entire administrative career in Cumberland County Schools.
As Wells Fargo Principal of the Year, Chalmers receives $3,000 for personal use and $3,000 for her school and a custom-made signet ring and pendant. She will serve as a member of the State Superintendent's Principals' Advisory Committee, and as an adviser to the State Board of Education and the Board of Directors for the North Carolina Public School Forum.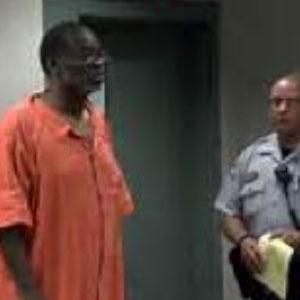 More Charges against Accused Pedophile
Former part-time coach Rodney Scott's bond is now $17.3 million. He's being held in the Cumberland County Detention Center. "Fayetteville Police detectives have served 55 additional warrants on Scott," said Lt. David McLaurin. He said yet another victim, who was 13 at the time he was molested, has come forward. Scott was previously accused by at least five men who claimed they had been sexually assaulted as children. The most recent victim told police his episodes with Scott occurred during most of 2014 while in foster care at Scott's home. A dedicated phone line established to report criminal misconduct involving Scott has been discontinued without explanation. McLaurin says anyone who believes they have been a victim of Scott's should contact police at 433-1529.