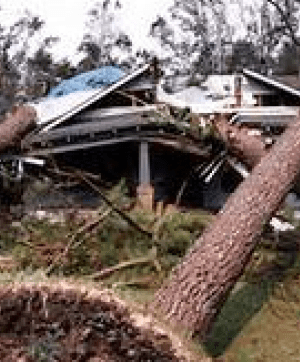 Hurricane season is upon us. Hurricane Fran was one of the most destructive storms to hit our state. It struck North Carolina 20 years ago this year, on a path similar to that of Hurricane Hazel 40 years earlier. Both occurred toward the end of the hurricane season and had remarkable similarities. Both storms glanced Fayetteville causing millions of dollars in damage. On October 14, 1954, the National Weather Bureau issued a warning for the Carolinas, with the caveat that the worst of Hurricane Hazel was expected to stay offshore. Instead, the storm took a northwest turn and headed toward land. It killed at least 400 people in Haiti before striking the North and South Carolina border as a Category 4 hurricane. On October 15, Hazel moved inland on a northerly trek through Eastern North Carolina into Virginia, West Virginia, Maryland, Delaware, New Jersey, Pennsylvania and New York. It brought gusts of 100 mph and caused $281 million (1954 USD) in damage. Ninety-five fatalities were attributed to Hazel in the U.S. She struck Canada as an extratropical storm, raising the death toll by 81 people, mostly in Toronto. Hazel is still regarded as the North Carolina storm by which all others are judged. Its name was retired from use for North Atlantic hurricanes.
Hurricane Fran came ashore south of Wilmington on Thursday night, September 5, 1996. It developed as a tropical wave two weeks earlier. Fran peaked as a 120 mph Category 3 hurricane but weakened slightly as she made landfall near Cape Fear overnight. Then Fran moved into interior eastern North Carolina. The storm's center took a path across the towns of Delco, White Lake, Roseboro, Dunn and Buies Creek. Although weakening, Fran still brought hurricane-force wind gusts and tremendous damage to trees and power lines across a broad swath of eastern North Carolina. Wind gusts were measured at 100 mph in Greenville, 81 mph in Goldsboro and 80 mph in both Fayetteville and Raleigh.
The storm continued to weaken inland and was only a tropical depression the next day. Memories remain fresh for public safety crews and PWC linemen who went to work immediately after Fran had passed. Fayetteville firefighters had been told by their chief to remain in their stations if and when winds hit 60 mph. The New York Times wrote on Sept. 6 that "As the storm moved inland, it maintained its strength as a hurricane, with its highest winds about 80 M.P.H. as it passed just east of Fayetteville, N.C., about 1 a.m. today. It continued to cause widespread damage and spin off tornadoes while moving north." Five shelters were opened in Fayetteville, Hope Mills and Spring Lake. High winds took down trees and toppled them across power lines all over Fayetteville. Electrical power and cable TV was out for several days.
According to the Associated Press, of the 37 deaths caused by Fran, 21 occurred in North Carolina. Most of them were caused by accidents from fallen trees, including trees falling on houses and automobile crashes into fallen trees. Total insured losses were estimated to be about $1.275 billion. Eventually, Hurricane Fran curved east-northeastward and transitioned into an extratropical cyclone as it continued up the Atlantic seaboard, again hitting Ontario, Canada, early on the morning of Sept. 9.