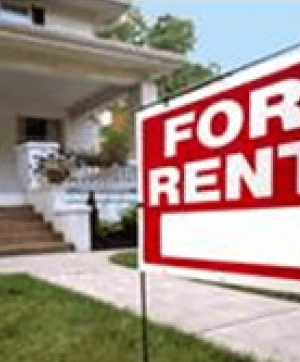 Drive through any neighborhood in Fayetteville and you'll be able to pick out the rentals because many of them stand out like sore thumbs. The grass this time of year is a foot high. Weeds have become small trees, and the shrubbery, if there is any, is overgrown. State and local governments have little authority to make rental occupants clean up their yards. The property owners can be held responsible, but it's a daunting task for city code enforcement officers. Six officers are tasked with the chore of keeping up with Fayetteville's estimated 90,000, according to Code Enforcement Director Scott Shuford. Rental housing, Shuford says, consumes 90 percent of their time. Three others look after commercial properties.
According to the 2010 census of Fayetteville's occupied housing units, almost half were rentals, which is far higher than the approximately one-third of units across the state. A census update indicated renter-occupied homes increased over the following two years by another 2 percent. That equates to nearly 47,000 homes in the city that are occupied by renters. Many of them are managed by professional property-management firms. There are dozens of companies specializing in rentals. Dozens more real-estate firms have rental management divisions. And there are private citizens who look after their rental houses.
A casual scan of prominent property management websites is revealing. Peachtree Properties, that "conducts routine inspections to ensure the tenants are keeping the home and lawn in an excellent state of repair." Most others don't even mention lawn care. Fayetteville businessman Ed Melvin owns and personally manages 52 rentals. "It's the property owners' responsibility to make sure their tenants know what is expected of them," said Melvin. He says he wouldn't be opposed to stricter city ordinance regulations requiring property owners to maintain higher appearance standards. "I introduce myself to the residents on both sides of my rental properties and give them my business card. I ask them to let me know if anything happens that I need to know about," Melvin added.
Fayetteville Mayor Pro Tem Mitch Colvin would like to see the city's Unified Development Ordinance beefed up, and he himself is a landlord. "I have six houses, one of them is a duplex," Colvin told Up & Coming Weekly. As a City Council member he's keenly aware of his responsibilities to keep his properties clean inside and out. The county health department can also enforce laws governing environmental and health issues that result from unkempt yards. Colvin is on a one-man crusade of sorts to get Fayetteville cleaned up. His business is on Murchison Road about midway between Bullock and Jasper Streets. He tells how he has approached vagrants who regularly seek handouts in the area. He's gotten to know them, and has put them to work cleaning up roadside trash. "I've offered to pay them five dollars a week to simply pick stuff up," he said. And, it's working. He sees them patrolling along that section of Murchison Road gathering up what inconsiderate drivers toss out of their cars. The men go so far as to tell others to leave the stuff alone … that they'll take care of it. Maybe Colvin's hit on something!
Melvin has 53 rental house and apartments. He personally takes care of tenant needs if they're unable to do for themselves. The vacancy rate grew as well, to 13.6 percent of the Fayetteville's estimated 89,642 homes and 14.7 percent statewide.
As a real estate investor, Cyndi McKinney limits the amount of properties she manages, because she personally performs your move-in, move-outand routine inspections — an important factor when considering someone to manage what is likely to be one of your largest investments.
She selects tenants based on credit checks performed by Equifax, verification of income from pay vouchers and employment and previous landlord verifications
McKinney actively markets your home for rent in the Fayetteville Observer, the Fayetteville NC MLS Multiple Listing Service, Fort Bragg and Pope AFB housing offices and her company website. She also arranges repairs and estimates promptly- — with owners' approval