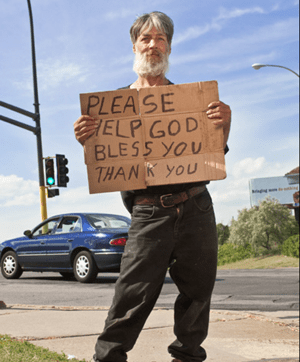 Most communities have resigned themselves to professional panhandling as a way of life for some of their citizens. Ordinances governing panhandling are not always the answer to the problem. "Most researchers and practitioners seem to agree that the enforcement of laws prohibiting panhandling plays only a part in controlling the problem," according to the Center for Problem-Oriented Policing. Fayetteville Police Chief Harold Medlock agrees with Brandt J. Goldstein's (1993) study of panhandling in New Haven, Conn., that "public education to discourage people from giving money to panhandlers and adequate social services for panhandlers are the other essential components of an effective and comprehensive response."
First and foremost, people must stop enabling beggars. "Panhandling is not the fault of the police or court system … it's caused by people who give them money," Medlock says. Fayetteville city ordinances ban panhandling after dark and near certain establishments. Panhandlers are not supposed to stand on roadway medians or shoulders. And the practice is banned altogether in the downtown area. Last year, the Downtown Alliance launched a drop=box program asking that people who are inclined to give money to the homeless do so by dropping their change in one of the boxes. The money is turned over to agencies which assist the homeless. Not all panhandlers are homeless. Some are professionals capable of earning "several hundred dollars a week," according to Chief Medlock.
Police must place dealing with panhandlers in perspective with all the other things cops do every day. Warning panhandlers and ordering them to "move along" are perhaps the most common police responses to panhandling. Again, according to the Center for Problem-Oriented Policing, "many police officers develop working relationships with regular panhandlers. They generally do not view panhandling as a serious matter, and are reluctant to devote the time necessary to arrest and book offenders. Moreover, most officers realize that panhandlers are unlikely to either appear in court or pay a fine.
Prosecutors and judges are unlikely to view isolated panhandling cases as serious matters.
"I do not recall seeing many of those cases in our District Courts, but we do see some. In cases where homeless people are arrested and are in jail, they will often plead guilty and be sentenced to time served by the Judge," District Attorney Billy West told Up & Coming Weekly.