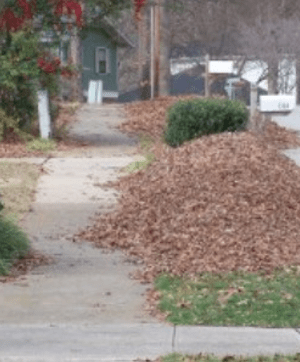 Some municipalities provide seasonal curbside loose-leaf collection. Fayetteville does. Leaves not only pose a problem for the storm drainage system. They also harm the water quality of local rivers and streams. Decomposing leaves release nutrients that can cause harmful algae to grow and bloom, which lead to fish kills by robbing the water of oxygen.
Fayetteville is among the communities in North Carolina recognized as 'tree cities' by the National Arbor Day Foundation. The trees produce a lot of leaves and pine needles. Managing falling leaves is a year-round effort for the City of Fayetteville. "Most people bag or containerize their leaves, but during leaf season we expand our routes from 10 to 12," said Environmental Services Director Jerry Dietzen. His agency picks up bagged leaves. Recreation and Parks, on the other hand, is responsible for loose-leaf collection in the fall and winter. The actual leaf season depends on the weather and climate based on when the leaves fall, but typically it runs from late October through mid-February. The Parks Department operates five one-man vacuum trucks and assigns them to the 148-square mile city according to postal zip codes. Budget cuts have reduced the city's ability to vacuum the leaves to only once during the season and that's the way it's going to remain. City Council has decided to add two more vacuum trucks and crews this year. The loose leaf collection season will likely be shorted by a few weeks, and apparently won't begin until early December, ending in mid-February.
Residents are asked to place leaves and pine straw on or behind the curb away from storm drains and out of the road. Leaves left in the street can cause storm water pollution and may obstruct the storm drainage system, resulting in flooding. Understanding the rules is more challenging for local residents than in some cities because Fayetteville is a transient community. Half the homes are rentals, according to the U.S. Census Bureau, and tenants don't always know the proper way to dispose of yard debris.
"The transient turnover is always a problem," said Dietzen.
Except during leaf collection season, leaves and pine straw must be bagged or containerized for pickup. They're picked up weekly. If loose leaves are left at the street out of season, offending residents will be notified and given 10 days to bag them. Then, they'll be charged $75, and the city will gather up the leaves. "Free trash bags are made available year round at city fire stations and recreation centers" according to Recreations and Parks Director Michael Gibson. Brown roll-out carts designed for yard trash can be purchased from the city for $53. The carts become the property of the residents and have a 10-year warranty.
In Fayetteville, it's illegal to rake or blow leaves into the street.