June is the month for local high school graduation ceremonies. Cumberland County Sheriff Earl "Moose" Butler and Commissioner Larry Lancaster announce yet another commencement. The Cumberland County Detention Center has produced its first High School Equivalency Program graduates. The sheriff didn't say how many inmates participated. A year ago, the sheriff's office proposed to County Commissioners that an educational program be funded for jail inmates who were interested in working toward earning high school equivalency certificates.
They approved the project and Global Learning Center won the contract to teach the school three times a year. Cumberland County School Board member and career educator Donna Vann spearheaded the project, according to Lancaster. The concept of an educational program in the jail is to educate the inmates "to make them more marketable in the workforce, lessening the likelihood of repeating criminal activity," said Sheriff Butler. Inmates were pre-tested and those who were accepted attended classes twice a day for 10 weeks. The students took tests along the way to assure that they retained the material and were prepared for the state exam. At the conclusion of the course of study, a test administrator and a proctor from Fayetteville Technical Community College administered the final exam. The first four jail inmates-turned-students passed the exam. "While other students are in the program and working toward completion of the equivalency program, this is a wonderful start to a good program," Chief Deputy Ennis Wright said.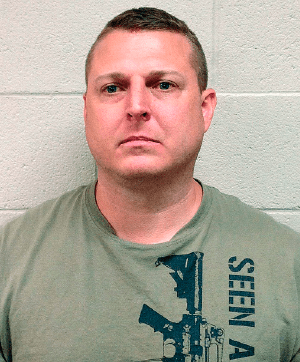 Reserve Officer Charged With Hate Crimes
A reserve U.S. Army Officer is in the custody of the Army Criminal Investigation Division at Fort Bragg after being charged with hate crimes in Hoke County. Maj. Russell Thomas Langford, 36, of Fayetteville, posted a $60,000 bond and was turned over to the CID. A Raeford native, Langford earned a bachelor's degree in criminal justice from Appalachian State University in 2002 before joining the Army Reserve. He has been a full-time reservist since 2008.
Langford allegedly left bacon at a Hoke County mosque and brandished a handgun. Pork products are sometimes used to insult Muslims, whose faith prohibits eating pork. According to detectives in Hoke County, he threatened to kill Muslims. Members of Masjid Al Madina told authorities Langf ord made death threats to at least one parishioner. "He told people at the mosque that he would kill them and bury them behind the mosque," said Capt. John Kivett of the Sheriff's Office. "He brandished a weapon while he was on the property." Later one of the members was followed home, but was not harmed.
Langford's mugshot shows him wearing a green military style t-shirt with the likeness of an assault rifle on it. Authorities found three loaded hand guns, hundreds of rounds of ammunition and some knives in his vehicle, Kivett said. The soldier was charged with ethnic intimidation, assault with a deadly weapon, going armed to the terror of the public, communicating threats, stalking and disorderly conduct. The Washington-based Council on American-Islamic Relations said the act constituted a desecration of a place of worship. The Council said the man Langford followed home is a Muslim Army chaplain at Fort Bragg.
City Recommits to Urban Ministry
Since 1993, the Fayetteville Urban Ministry has helped an estimated 4,000 low-income residents repair their homes. They call it the Nehemiah Project named after the Hebrew leader of the fifth century B.C. who lead the rebuilding of Jerusalem after Babylonian captivity. Urban Ministry's mission is "to show God's compassion for our neighbors in need, and thus build our community together," according to its website. Individual projects typically range from replacing roofs and exterior painting to fixing steps and handrails. In 1994, the program assumed the Emergency Home Repair Program from the City of Fayetteville's Community Development Department. Nehemiah partners with local contractors, the Re-Store Warehouse and dozens of volunteers from local churches to work on behalf of this community's elderly and low-income population. The Nehemiah program is one of Urban Ministry's four areas of concentration.
Fayetteville City Council split in support of funding the project at $300,000 in the coming fiscal year. Some council members had proposed cutting the budget by $100,000 in favor of other programs. Voting to provide full funding were Chalmers McDougald, Ted Mohn, Larry Wright, Bill Crisp, Jim Arp and Bobby Hurst. Mayor Nat Robertson, Mayor Pro Tem Mitch Colvin and councilmembers Kirk deViere and Kathy Jensen opposed.
Opioid Awareness Task Force
Sixteen local agencies have joined forces to bring attention to the abuse of opioids in Cumberland County. "This is a public health epidemic and one that is uniquely American," said Dr. Sanjay Gupta, CNN chief medical correspondent. Opiates include Demerol, Percocet, Hydrocodone, Morphine, Oxycodone and Heroin. In Fayetteville, Mayor Nat Robertson and Director Elizabeth Goolsby of the VA Medical Center, are bringing together local and state leaders in an Opioid Abuse and Awareness Task Force. The U.S. Food and Drug Administration describes prescription opioids as "powerful pain-reducing medications … that have both benefits as well as potentially serious risks." The FDA adds "… these medications can help manage pain when prescribed for the right condition and when used properly. But when misused they can cause serious harm, including addiction, overdose and death." The local group's focus is to reduce opioid overdoses, educate physicians who prescribe opioids and bring public awareness to opioid addiction. "Opioid use and its consequences is a community problem that will take a community response to address," said Mayor Robertson.
Reducing Teen Pregnancy
The Cumberland County Department of Public Health hopes to reduce the county's teen pregnancy rate with the employment of two additional health educator positions. It's part of the North Carolina Youth Connected Project to address teen pregnancy in Cumberland and Onslow counties. Over the next five year, $508,000 will cover the salaries and benefits of the two educators. The goal is to cut teen pregnancy rates in half by 2020. The program seeks to replicates the success of the same program in Gaston County where the teen pregnancy rate decreased by 40 percent.
The Cumberland County Health Department will receive coaching on best practices in adolescent medicine and funding to become a pregnancy prevention hub in the community. Cumberland County ranks 18th in the state and Onslow County ranks second in the number of reported teen pregnancies in 2014, the most recent year for which data is available. N.C. Youth Connected is an initiative funded by the U.S. Department of Health and Human Services Office of Adolescent Health.