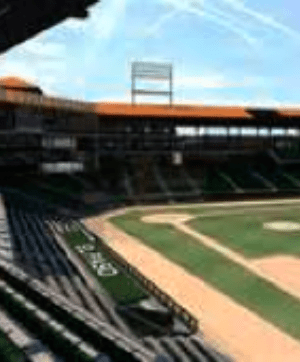 There appears to be growing interest in bringing minor league baseball back to Fayetteville. An informal study of stadiums conducted by Up & Coming Weekly reveals that a ballpark proposed for downtown Fayetteville, if approved, would be the Taj Mahal of Single-A stadiums on the east coast. Barrett Sports Group (BSG) has proposed a nearly $47 million facility to Fayetteville City Council. That would make a ballpark adjacent to the Prince Charles Hotel the most expensive stadium in Single A baseball by far.
The existing stadium that comes the closest in cost is Constellation Field in Sugar Land, Texas. It was built in 2012 at a cost of $36 million, or $37.8 million in 2016 dollars, according to the U.S. Inflation Calculator. The Sugar Land team plays in an unaffiliated league on the caliber of Triple-A baseball. The stadium seats 7,500. It was the result of many years of effort by the city of Sugar Land, its citizens and a public/private partnership. No general fund dollars were spent to build the stadium. It was funded with a portion of sales tax revenues made available only for economic development purposes. Expenditures by visitors to the stadium generate sales, as do hotel occupancy taxes that benefit the city and Sugar Land residents. Similar revenue sources would not be immediately available to the City of Fayetteville and would require the cooperation of the state legislature and County of Cumberland to accomplish over time. County Commission Chairman Marshall Faircloth has said the county has no interest in helping to fund the ballpark.
Up & Coming Weekly reviewed construction costs of typical Single-A minor league ballparks built on the east coast of the United States. Pensacola, Fla., Bayfront Stadium opened in 2012 with a seating capacity of 5,000. Construction cost was $18 million or $19.2 million in 2016 dollars. The stadium in Bowling Green, Ky., was built in 2008 at a cost of $28 million or $31.2 million in today's dollars. Whitaker Bank Ball Park in Lexington, Ky., opened in 2001 and seats 7,000. It's a Single-A affiliate of the Houston Astros, the same team interested in Fayetteville. It cost $13.5 million in 2000 or $18 million today. The State Mutual Stadium in Rome, Ga., was built at a cost of $15 million in 2001 to seat 5,100. That cost today would be $18 million.
While BSG Consultants have recommended a $47 million stadium for Fayetteville, Mayor Nat Robertson tells Up & Coming Weekly he believes the city can build a park for about $30 million in what he calls "non-traditional, out-of-the-box financing" without a bond referendum or tax increase. He is recommending to city council's newly-appointed stadium subcommittee that it designate the $6 million economic development pledge from PWC for the stadium. He believes the city-owned Festival Park Plaza Building and Robert Williams Business Center, both of which the city owns, could be liquidated for $9 million. He would like the city to request $10 million dollars from the general assembly for economic development. Finally, Robertson suggests that the city set aside $1 million a year for five years in general fund revenues for the stadium. The Houston Astros ownership has asked the city for a commitment by mid-August.