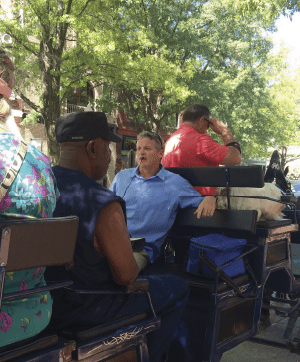 At this writing, a stroke of Governor McCrory's pen is all that remains to complete a long hoped for collaboration between Cape Fear Valley Medical Center and Campbell University. Legislative approval of $7.7 million in recurring funds makes it possible for Cape Fear Valley to be reclassified as a "rural" hospital, allowing it to greatly expand its residency program. Becoming a rural hospital will allow the medical center to receive an additional $30 million in federal funding for its residency program for training and salaries for the residents, said Cape Fear Valley Health System Chief Executive Officer Mike Nagowski. They'll earn about $50,000 a year with full benefits while in training. The fledgling physicians will be instructed by full- and part-time physician professors who will earn up to $400,000, depending on specialty.
"These are all new jobs, and most will reside in Cumberland County," County Commission Chairman Marshall Faircloth told Up & Coming Weekly. Campbell University trustees pledged their support to expand the residency program at Cape Fear Valley during a board meeting in May. Faircloth noted that, with the reclassification, Cape Fear Valley will lose $10.7 million in Medicare and Medicaid reimbursements. Campbell pledged $3 million and the general assembly's appropriation of $7.7 million makes up the deficit. "What a major win this is, and what an effort by a lot of great folks," said Faircloth. "This will be a combination of economic development and future expansion of community medical resources that we have not seen before. Cape Fear Valley's relationship with Campbell and its excellent work with Harnett Health is paying dividends."
Cape Fear Valley Medical Center has had a fledgling medical residency program for three years. But, the new collaboration will make it possible for the hospital to train up to 300 resident medical school graduates. The first year there will be 157 slots in several specialties. Nagowski said they'll train in specialties such as general surgery, emergency medicine, pediatrics, internal medicine and obstetrics and gynecology. Studies have indicated that, when they complete their residencies, many of the new docs will choose to live within 50 miles of where they received their training "Thus giving a huge boost to rural health care access for our community in the future," Faircloth observed. Osteopathic medicine provides all the benefits of modern medicine including surgery, prescription drugs and technology. In addition, it offers the added benefits of hands-on diagnosis and treatment using manipulative medicine. Osteopathic medicine emphasizes helping each person achieve a high level of wellness.
Faircloth noted that there are significant residuals for the community as well. The residency program will give county government the financial flexibility to entertain some level of participation in projects that the Fayetteville/Cumberland community is considering like a ballpark, Civil War History Center, an arts and entertainment district, performing arts center and other quality-of-life enhancements many believe are crucial to the county's future.
It's the first time the chairman has indicated an interest in county commissioners joining with Fayetteville City Council on the construction of a minor league baseball stadium. Fayetteville Mayor Pro Tem Mitch Colvin has suggested adding a couple of county commissioners to the city's stadium subcommittee. Faircloth observed that not everyone is happy that these projects are concentrated in or near downtown Fayetteville. But, he said, "If you look around at cities which have made a successful transition in their livability, that's where the investment has been made."