If and when the City of Fayetteville decides to bring a Single-A minor league baseball team to Fayetteville, the SwampDogs may find themselves in the mix. They are an amateur collegiate summer baseball team. "I don't worry about a lot of stuff until I have to worry about it," said owner Lou Handlesman. He declined an interview with Up & Coming Weekly, but in a brief telephone conversation said he had approached the city about the potentially competitive situation. "Can we compete, yeah probably," he added. Handlesman has operated the local franchise for 16 years. He leases the county-owned J.P. Riddle Stadium on Legion Road. The city is currently finalizing a memorandum of understanding with the Houston Astros. If successfully negotiated, consultants don't believe a stadium behind the Prince Charles Hotel downtown would be ready for occupancy until the 2019 season, perhaps as early as the 2018 all-star break. Astros owners want to play ball here as early as next season. City of Fayetteville Consultant Jason Freier, in a recent teleconference, dropped J.P. Riddle Stadium's name as a possible temporary site for baseball while construction of the new park is underway. Sources say the team will likely play at Campbell University through 2018.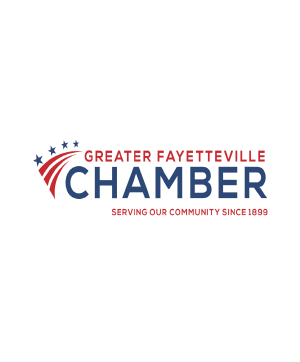 Chamber Endorses Local Projects
Fayetteville's chamber of commerce has come out in support of two major projects, including the planned minor league baseball stadium. The proposed Civil War History Center also got the nod. "We encourage the city and county to each pledge $7.5 million toward the (history center) program," said Chamber President and CEO Darsweil Rogers. He noted that if built, "the Civil War Center would have more than 100 employees and generate $12 million in annual economic benefit." The organization's board asked both local governments to make that commitment. As for the ballpark, Rogers said, "If the city and county can devise an acceptable financial package and funding strategy, we believe this is an attractive opportunity for the community."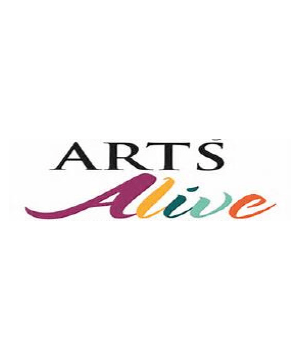 Art and Entertainment District in Downtown
The vision for what the Downtown Fayetteville Alliance and the Arts Council of Fayetteville/Cumberland County have for the city center is a bit clearer following a report presented by consultants who developed a master plan and ideas for an arts and entertainment district. Matt Wagner of the National Main Street Center has completed a market study. Martin Cohen and Jerry Allen of the Cultural Planning Group have come up with draft recommendations. They presented their concepts at a community meeting last week. The consultants envision a district of entertainment, art and fine dining, plus recreation and modern technology. A proposed baseball stadium fits into their plan, but a performing arts center apparently does not … at least not yet. Arts Council Board Member Eric Lindstrum could not say when or where a performing arts center might be developed. Allen, on the other hand, urged city council to be sure an artist is on the planning and design group for the ballpark. "The stadium can be a huge draw," said Wagner. "It helps build connectivity," he added. Cohen praised the community for what he called the convergence adoption of the parks bond referendum, the stadium proposal, a downtown skate board park and realignment of the Rowan Street Bridge. "Political and civic leadership is part of the convergence," he stated. The study defines the core entertainment and arts district as the downtown area bounded by Rowan & Grove Streets to the north, Robeson Street and Bragg Boulevard to the west, Russell Street on the south and Cool Spring Street to the east. The consultants said they will ask city council to adopt the plan in December.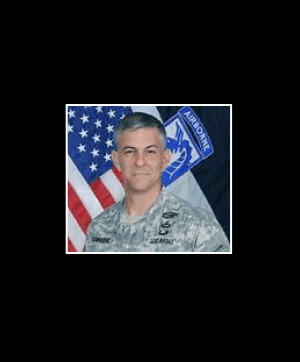 Fort Bragg's Commander Is off to War
The commanding general of Fort Bragg's XVIII Airborne Corps will take charge of the U.S. fight against the Islamic State group in a couple of weeks. He will replace the III Corps commander as head of Combined Joint Task Force Operation Inherent Resolve. Lt. Gen. Stephen Townsend will succeed Lt. Gen. Sean MacFarlan, who has led what Defense Secretary Ash Carter called "this vitally important campaign" since September. The Pentagon announced the deployment of XVIII Airborne Corps Headquarters with about 450 soldiers to Kuwait. "The XVIII Airborne Corps has a long and proud history of constant readiness to answer the calls of our nation," said Townsend. "Our soldiers and units are skilled, tough and stand ready around the clock to defend America," he added. Carter visited Fort Bragg last week. Townsend and MacFarland are expected to change command this month.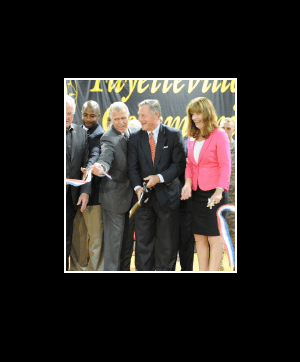 Military Trade Show a Success
North Carolina's U.S. Senators don't get to Fayetteville often, Thom Tillis more often Richard Burr. Tillis is a member of the Senate Armed Services and Veterans Affairs Committees. They, Fayetteville Technical Community College and the North Carolina Military Business Center hosted last week's 15th Annual North Carolina Defense & Economic Development Trade Show at FTCC. "The Defense Trade Show at FTCC brings together more major defense contractors, North Carolina businesses, military and federal agencies than any other event in our State," said Scott Dorney, NCMBC Executive Director. More than 100 indoor and outdoor exhibitors, military static displays and personnel from Fort Bragg's XVIII Airborne Corps and Pope Army Airfield and procurement-related educational activities took part.
Fayetteville River Trail
Total funding for Fayetteville's Cape Fear River Trail from N.C. Department of Transportation (DOT) has reached $2.3 million. The city last week was awarded a $125,00 grant from DOT for the project. Fayetteville-Cumberland Parks & Recreation also received a $161,000 award from the state's Transportation Alternative Program. These funds will pass through DOT from the Fayetteville Area Metropolitan Planning Organization for the connector trail from Linear Park to the Cape Fear River Trail.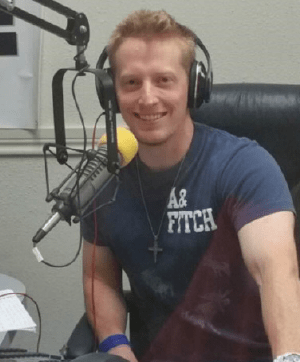 Colonial Media Hires New Assistant Operations Manager
Colonial Media and Entertainment announces Aaron Brodie has been hired as Assistant Operations Manager of its Fayetteville radio stations. Brodie joins Colonial from Townsquare Media in Lubbock, Texas, where he anchored news and sports, guest hosted a local sports talk show and served as play-by-play talent. Among Brodie's responsibilities is serving as afternoon drive talk show host on ESPNFayetteville.com and 92-5 FBX.