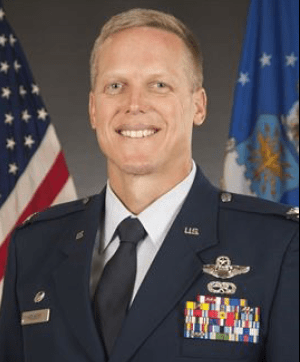 It takes getting used to, but the local highway road signs now refer to Pope AAF, not Pope AFB. That's Pope Army Airfield, not Pope Air Force Base. The grounds and facilities are now part of Fort Bragg. The Air Force unit coming the closest to identifying with what we remember as Pope Air Force Base is the 43rd Air Mobility Operations Group commanded by Col. Kelly Holbert, 45, a 22-year Air Force veteran. He's a command pilot with many years of experience flying C-130 Hercules transport planes. That's ironic because Pope lost all of its troop carriers when it was converted to an army airfield. The 43rd replaces the 440th Airlift Wing. Holbert's unit is unique in the continental United States, he says, owing to the fact that it supports the 82nd Airborne Division. It provides army airborne support capabilities such as combat airlift, joint forcible entry and command and control. The group also serves the needs of XVIII Airborne Corp and Special Forces. Holbert served at Pope 20 years ago and says it feels no different today. He tells Up & Coming Weekly there is an "incredible amount of joint support between the Air Force and the Army here. At our level there is tremendous interaction and cooperation," he said. "I have personal relationships with all three brigade combat team commanders." Nine hundred airmen are assigned to the 43rd Air Mobility Operations Group. With the inactivation of the 440th Airlift Wing in September, it will be one of four Air Force units assigned to Pope Field. Other Air Force tenants are the 19th Air Support Operations Group, 432nd Combat Control Squadron and the 21st Special Tactics Squadron. One of Holbert's squadrons provides administrative and human resource needs for Pope's other units which together comprise 2,000 airmen.
Col. Holbert took command five weeks ago, just in time to help coordinate an 82nd Airborne Division Emergency Deployment Response Exercise in which paratroopers were airdropped over Fort Polk, Louisiana. "It went very well," said Holbert. It was the first joint Army / Air Force exercise in which no Pope-based aircraft were used. A larger maneuver actually began days earlier during what's called a Battalion Mass Tactical Week simulated military operation. Most of the planes used in the exercise were flown in from across the country. 82nd Airborne paratroopers were loaded into nice C-17 aircraft from Joint Base Lewis-McChord, Washington. A few C-130s were also used during the exercise. Six aircraft flying in three-ship formations made roughly 96 passes over Fort Bragg's Sicily Drop Zone, airdropping over 4,700 paratroopers, six howitzer artillery combos, two Humvees and several other pieces of heavy equipment and cargo, said Lt. Col. William McDonald, the mission commander.
Without notice, participants had to shift their attention from the BMTW to the Emergency Deployment Readiness Exercise. "This is the first time we have rolled a BMTW into an EDRE in order to test our ability to plan… inside of 96 hours," McDonald said. Planning for the EDRE began July 12 while the MASS TAC was underway. Aircraft began launching on July 16, said Lt. Col. Ben Russo, 18th Air Force deputy chief of combat operations. The transition was significant because it doubled the teams' work and required them to plan a larger exercise while still running another, which is no easy feat. "This highlights our commitment to the 82nd Airborne and their mission," McDonald said.