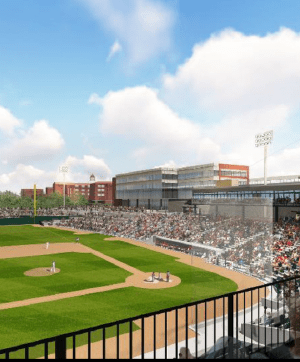 A recent trip to Columbia, S.C., gave Fayetteville City Council members and a couple of county commissioners an idea what a new baseball stadium might look like here. They visited the new Spirit Communications Stadium, a minor league ballpark built at a cost of $47 million. It opened near downtown Columbia this past spring. The South Carolina state capitol of 134,000 people is actually smaller than Fayetteville, but its urban area is larger. When it comes to professional baseball, the communities are comparable. Both have nearby military bases and have had minor league franchises in the past.
Officials want to model a new Fayetteville ballpark behind the Prince Charles Hotel after Spirit Communications stadium, with a few significant differences. While Columbia's stadium seats 6,500 fans, consultants are suggesting a ballpark seating about 4,000 for Fayetteville. Integral to the project are a variety of seating options. The Columbia stadium has 14 options ranging from a grassy berm and a patio section with tables and chairs for $5, to luxury suites at $750 per game. "Columbians love their baseball," one fan said. A local facility would not need a dozen expensive skyboxes or some of the other amenities available there. A local stadium would likely not need four full-service concessions.
Surrounding commercial development is important at both places. But there's precious little available space locally. Interim City Manager Doug Hewett notes that pending renovations to the adjoining Prince Charles Hotel have the potential for apartments, offices and retail stores. He says the city is working closely with the new owners to coordinate developments.
City council hopes to meet the Houston Astros August 19 deadline for a mutually agreeable memorandum of understanding (MOU). Hewett says the MOU could easily contain 50 documents of several hundred pages. It's a voluminous yet nonbinding agreement. The city hopes to win a 30-year lease agreement with either the Astros or Minor League Baseball. The MOU will specify that the city will build a stadium "meeting minor league baseball standards at a cost not to exceed" whatever council comes up with, said Hewett. Council member Jim Arp, who is on the subcommittee drafting the MOU, says that could range from $30 million to $45 million. No one would say whether a tax increase would be required. Councilman Kirk deViere heads the subcommittee working on funding sources.
Before all parties agree to a memorandum of understanding, city council would have to decide what the spending cap would be. And, the Houston Astros would have to acquire the minor league team in southern California that it wants to move to Fayetteville. Hewett tells Up & Coming Weekly that while a contract could be executed "within 60 to 90 days after the MOU is adopted," it would likely take several months after that to hammer out all the legalities involved. Construction could take 18 months and likely wouldn't begin until at least the middle of 2017, he added. The team's first season at the new park would be 2019, and according to sources, it would play at Campbell University until then.