Up & Coming Weekly has
learned that the proposed construction cost of a minor league ballpark planned for downtown Fayetteville will not exceed $33 million. A Fayetteville City Council stadium committee has been meeting privately for several weeks to hammer out a "non-binding memorandum of understanding with the Houston Astros that will set the stage for further negotiations," said Councilman Jim Arp. He went on to say he would not support the stadium if he thought the project would require a tax increase. The committee also recommends that additional project costs such as architectural fees and other charges not exceed $2 million. City Council must agree to terms of the memorandum of understanding this week for it to move forward. Council held a public hearing to gauge initial citizen interest in a stadium. Sixteen people spoke … ten of them were opposed to the idea, five supported it. One speaker wasn't clear as to his position.
Spring Lake Police Chief to Retire
Spring Lake Police Chief Troy McDuffie is retiring at the end of the year. "It was not an easy decision, but I know it is the right decision for me personally," McDuffie said in an announcement. His last day will be Dec. 1.
"It has indeed been a distinct honor and privilege to serve as Chief of Police for the great Town of Spring Lake," he said.
He ends a 30-year career in law enforcement, the last seven as chief in Spring Lake. Before that he was a detective with the Fayetteville Police Department. McDuffie led the agency in the rebuilding of the department after it was relieved of its police powers in the wake of a scandal. The department "has been transformed into an independently-functioning department with 35 sworn officers dedicated to protecting and serving the Spring Lake community," he said.
Fayetteville Mountain Bike Trail
Fayetteville-Cumberland Parks & Recreation has opened a new mountain bike trail. Bikers can access the three-mile trail from Clark Park on Sherman Drive or the Jordan Soccer Complex on Tree Top Drive. The trail is the result of support from various volunteer groups and individuals. The course features technical terrain and biking challenges. Tight turns and changing conditions require vigilance and constant attention. Riders are required to wear helmets at all times. The first half mile is located near the Cape Fear River, providing beautiful scenery and interesting terrain. The trail crosses the Cape Fear River Trail and continues along a winding route that allows bikers to explore nature in the middle of the city. The goal of Parks & Recreation is to stimulate the interest of users to justify additional mileage.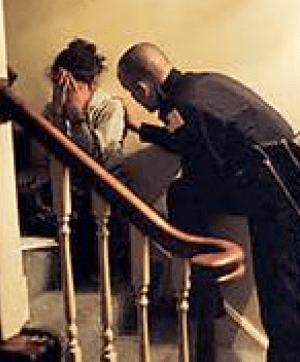 Mental Health Crisis Intervention
The latest class of the Fayetteville-Cumberland County Crisis Intervention Team academy has graduated following a 40-hour course of instruction. The 27 graduates are now among nearly 800 CIT-certified public safety and court system officials to advance through the program. Gail Staley, former program coordinator for law enforcement training at Fayetteville Technical Community College, received the first ever CIT Founders Award in recognition of her efforts in helping establish Cumberland County's jail diversion program. The program provides specialized law enforcement response to individuals experiencing crises related to mental illness. First responders are trained to recognize mental or emotional incapacitation so they can provide appropriate treatment and avoid incarceration.
Train Station Gets an Overhaul
The passenger platform canopy of the downtown Fayetteville Train Depot is getting what the city calls "an overdue and necessary" makeover. Pressure washing and painting of the lengthy canopy has been underway for several days. The city is also replacing the roof of the protective passenger canopy. City spokesman Nathan Walls says the project should be completed next month. Repairs are estimated at $46,500. The Building Maintenance Division of Fayetteville-Cumberland Parks & Recreation is overseeing the work.
Fayetteville Award Winner
Barbara Brooks, a volunteer counselor with the Seniors' Health Insurance Information Program has received the Mickey Hanula Volunteer of the Year award. It is one of four statewide awards for outstanding work in providing free, unbiased counseling about Medicare and other health insurance issues to seniors in North Carolina. Brooks counsels at the Cumberland County Coordinating Council on Older Adults in Fayetteville. She became a volunteer six years ago after retiring as Director of the Department of Social Services in Cumberland County. This year's awards were presented at the Annual North Carolina SHIIP Coordinators' Training Conference in Greensboro.
Correction
In the Aug. 12 article titled "Cumberland County Property Revaluation Is Coming," Up & Coming Weekly stated that "County commissioners will adopt the SOV in November which will be effective Jan.1. The bills will go out that month, and must be paid by September to avoid penalties."
Actually, the 2017 notices of new values will go out that month or January 2017. Bills will be mailed in August 2017 and must be paid by January 5, 2018 to avoid penalties.