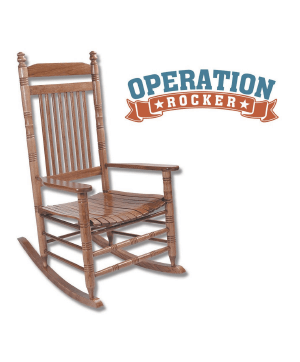 Cracker Barrel's Operation Homefront is making its famous rockers available to lucky military families for free. The promotion began over the July 4th weekend and continues through Labor Day. Cracker Barrel Old Country Store calls the project an effort to build "strong, stable and secure military families." Operation Rocker is a promotion whereby folks go online and purchase rocking chairs (http://shop.crackerbarrel.com/collections/holidays/operation-rocker). For each one that's sold, the company donates a chair to Operation Homefront. It's part of the organization's broader Homes on the Homefront program that helps military families by placing deserving veterans in mortgage-free homes. "Cracker Barrel is proud to serve the families of the men and women who serve our country," said company executive Beverly Carmichael.
Families live in their houses rent-free for up to two years while Operation Homefront helps them understand how to be effective homeowners by building their savings and making timely payments as they contribute to a small equity fund that goes back into their house. The program also assists with home repairs and helps families navigate through the sometimes cumbersome Veterans Affairs system. More than 550 houses have been donated through Homes on the Homefront, according to Margi Kirst, chief development officer. Operation Homefront has made 21 homes available in North Carolina, seven of them in the Fayetteville/Fort Bragg area. The company has committed to donate $100,000 through contributions over the next year, and the Cracker Barrel Old Country Store Foundation has pledged another $100,000, said Kirst.
Fayetteville is one of the few military communities with two Cracker Barrel restaurants. The original is at I-95 Exit 49. More recently a second store was opened on Skibo Road. "We get a lot of traffic from military families who are traveling to and from Fort Bragg," said Tony Ciamillo, General Manager of the Cracker Barrel on Jim Johnson Road, off Cedar Creek Road. Of military patrons "Skibo likely gets more than I do," he added. He said the iconic rocking chairs sell very well in this community. They range in price from $129 when on special, to $199 for customized military versions.
For a Cracker Barrel patron who is not interested in buying a rocker but would still like to contribute, donations of $5 can be made by texting SALUTE to 27722.
Cracker Barrel is a natural for the military because of the home-away-from home concept in its stores and restaurants. The company says it is recognized for superior performance by independent charity oversight groups; that 92 percent of Operation Homefront's expenditures go directly to programs that provide support for military families.