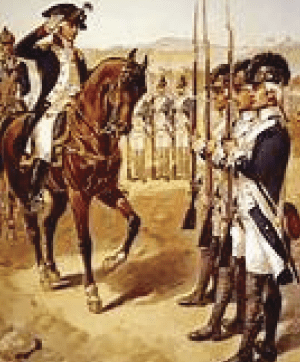 Gilbert du Motier, Marquis de Lafayette was educated at the Collège du Plessis and the Versailles Academy. He was commissioned a second lieutenant in the Musketeers of the Guard on April 9, 1771. At age 19, the young Marquis was an adventurer at heart. He believed the American Revolution needed the advantage of direct French support. The impetuous nobleman defied the king and decided to visit America. Benjamin Franklin dispatched a letter to General George Washington asking him to accept the young Frenchman as an aide-de-camp. Lafayette purchased a ship and headed for America on April 20, 1777. He landed near Charleston, S.C., on June 13, and proceeded to Philadelphia where he offered to serve without pay.
Lafayette first saw action at the Battle of Brandywine where he was wounded in the leg. It was his first of several engagements with British Lord General Charles Cornwallis. Lafayette did not seek treatment until an orderly retreat was organized. For his actions, Washington cited him for bravery and recommended him for divisional command.
He rejoined Washington at Valley Forge. Lafayette was promoted to Major General and was assigned to Major General Nathaniel Green. Washington ordered the army from Valley Forge to pursue the British across New Jersey. In the Battle of Monmouth, June 28, 1778, Green and Lafayette met the enemy in a hard struggle in which Greene was cited for conspicuous service. During the night the British retired and eventually reached New York. In July, Greene and Lafayette were dispatched to Rhode Island to expel the British from the colony.
Lafayette was given leave to briefly return to France where he was granted 6,000 men under General Jean-Baptiste de Rochambeau. He returned to America and conducted operations against the traitor Benedict Arnold. In March, 1781, A 2,100-man British force commanded by Cornwallis confronted Green's 4,500 Americans at Guilford Courthouse, North Carolina. The victory went to Cornwallis, but the British Army lost a considerable number of men during the battle with estimates as high as 27 percent. Such heavy British casualties resulted in a strategic advantage for the Americans. It was the largest and most hotly contested battle of the American Revolution's southern campaign. Lafayette shadowed Cornwallis's army as it moved north from North Carolina. They next met in Virginia at the Siege and Battle of Yorktown. Lafayette was with Washington on October 19, 1781, when Cornwallis surrendered his 8,000 troops to end the war.
Sailing home to France in December, the marquis was promoted to field marshal. Again, Lafayette returned to America, and in 1824 began a lengthy tour of the country. The tour was one of the greatest American public events of the 19th century. From August 1824 to September 1825, Lafayette visited all 24 states of the Union. He came to Fayetteville on March 4 and 5, 1825. It was the first city to be named in his honor in the United States, and was the only namesake city he visited. Lafayette died in 1834.
Every year Fayetteville's Lafayette Society celebrates Lafayette's birthday with various events in downtown Fayetteville.