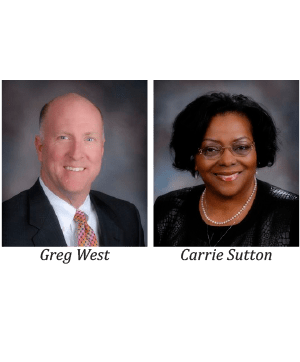 The Cumberland County Board of Education begins the new year with new leadership, and not everyone is happy about it. Rather than follow tradition, school board members voted 5-4 to elect Greg West as chairman, rather than current vice chairperson Carrie Sutton.
"I'm just shocked," Sutton said. "I've worked on this board for eight years, and never have I been in a situation like this…this is so racial."
"All I can say is, you are wrong," West said, responding to Sutton's claims of racially-motivated voting. Board members Peggy Hall, Rudy Tatum, Donna Vann and Susan Williams supported West, who voted for himself. Alicia Chisholm, Porcha McMillan and Judy Musgrave supported Sutton, who voted for herself. West served as chairman most recently in 2014. During the public comments portion of the meeting about a third of the people in the room asked the board to choose Sutton as chairwoman.
Fayetteville Endorses Civil War Center
Despite City Councilman Ted Mohn's concerns that the city was rushing into a big money commitment, the council has endorsed the proposed Civil War History Center. The endorsement is a pledge to provide $7.5 million dollars toward construction of the $65 million project. "We've got to show leadership," said Councilman Chalmers McDougald.
"If we're earnest about doing this, we need to make a commitment," added Councilman Jim Arp. President Mac Healy of the History Center Foundation has sought pledges from the city and county, noting that neither body is committed if the state fails to provide a matching contribution of $30 million. State Representative Billy Richardson told council it's essential that the request be included in the governor's proposed budget next month. County Commissioners meet next on Jan. 3 and will be asked to match the city's pledge. The history center would replace the Museum of the Cape Fear in Haymount and would be built on the undeveloped grounds of the historic antebellum Fayetteville Arsenal.
NCDOT Accelerates Fayetteville Outer Loop
The N.C. Department of Transportation is accelerating plans for the Camden Road to I-95 section of the Fayetteville Outer Loop. Officials are developing a design-build contract for the section and the project should be awarded late next year, one year ahead of schedule. That means it can be completed earlier than originally planned. A team composed of a contractor and design firm will complete the design, purchase the right of way, obtain the proper permitting, coordinate utility relocations and construct the project, all under a single contract. DOT says that reduces overall construction time and project cost inflation. Earlier this month another section of the Outer Loop opened between Bragg Boulevard and the All-American Freeway. The entire 39-mile of Future I-295 will be completed by 2025.