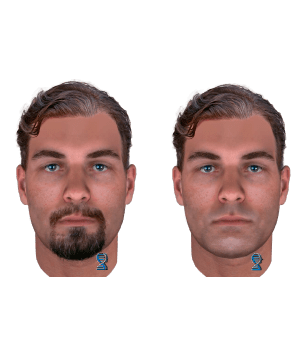 Eight to 10 years ago, a subject who became known as the "Ramsey Street Rapist" terrorized Fayetteville's north side. Detectives continue to investigate the half dozen attacks attributed to the man. None of the cases were cleared with arrests, and police hope new technology will help them solve the crimes.
Matching DNA has been attributed to the same white male who committed at least three of the attacks. And Police Lt. John Somerindyke believes the other three outstanding rapes were also committed by the same subject based on physical descriptions given by his victims. The evidence has been uploaded to the national Combined DNA Index System known as CODIS. "But Fayetteville Police have not received any matches to a particular person," said Somerindyke who commands the FPD's Special Victims Unit.
The rapist was described ten years ago as a white male is his 20s to mid 30s. He stood 5'9" to 6'3" tall and weighed as much as 230 pounds, perhaps less. He was described as of average build with short black or dark brown hair. Parabon Nanolabs, Inc., has produced likenesses of the rapist using a technology known as phenotyping. They call their product Snapshot and describe it on their website as "a revolutionary new forensic DNA analysis service that accurately predicts the physical appearance and ancestry of an unknown person from DNA." Snapshot is ideal for generating investigative leads, narrowing suspect lists and identifying unknown remains." The company says on its website that "It is possible to reverse-engineer DNA into a physical profile. Snapshot reads tens of thousands of genetic variants ("genotypes") from a DNA sample and uses this information to predict what an unknown person looks like."
Here's how Parabon Nanolabs says the science works: "Using deep data-mining and advanced machine learning algorithms in a specialized bioinformatics pipeline, Parabon — with funding support from the U.S. Department of Defense — developed the Snapshot Forensic DNA Phenotyping System, which accurately predicts genetic ancestry, eye color, hair color, skin color, freckling and face shape in individuals from any ethnic background, even individuals with mixed ancestry."
In the case of the Ramsey Street Rapist, the laboratory produced composites with and without facial hair. Two of them are as the subject appeared ten years ago. And using age progression, two show him as he might look today.
Lt. Somerindyke and SVU Sgt. Kelly Berg are especially passionate about this case. Somerindyke displayed his handcuffs at a news conference, declaring he would put them on the rapist one day. He said, however, the police department has no idea of the rapists' whereabouts. Forensic and evidentiary information have been made available to law enforcement nationwide, he said. And he went on to say he will add $1,000 of his own money to the reward offered by Crime Stoppers. Somerindyke went so far as to challenge concerned businesspeople to consider adding to the reward fund.