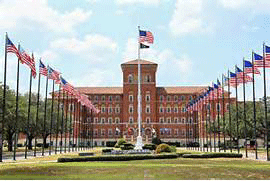 The Department of Veterans Affairs is in for a radical transformation if President-elect Donald Trump follows through on campaign promises to shake up the bureaucracy. Military veterans and their caregivers will watch closely in the year ahead to see how Trump moves on the plan he introduced during the presidential campaign, pledging "no more waiting backlogs" and "no more excessive red tape." Some of the promises seem relatively easy to implement and monitor. Trump wants a commission to look into "all the fraud, cover-ups and wrongdoing that has taken place in the VA," something he should be able to establish early next year. But most of his proposed changes will not be easy.

Trump wants Congress to pass legislation allowing VA officials to quickly fire misbehaving employees and rescind bonuses for others. Those proposals are likely to run afoul of federal workers' unions and possibly the courts, as similar moves in the past have been struck down by judges. Trump has promised to increase the number of mental health care professionals at VA, something that President Barack Obama has struggled with in recent years because of shortages of specialists.

In an October essay in the New England Journal of Medicine, two leading members of a blue-ribbon commission charged with evaluating consultant assessments suggested that Veterans Health Administration primary care could be spun off to the private sector. Gail Wilensky, a former head of Medicare, and physician Brett Giroir wrote that the VHA's model of providing "comprehensive care" to veterans could be shifted to one focused on specialized care like treatment of traumatic brain injuries, audiology, optometry or mental health services. RAND reported VA patients get care that is often higher quality than that in the private sector. The VA has developed into the only nationwide fully-integrated healthcare system in the United States.
A study published recently in the Journal of the American Medical Association reported that men with heart failure, heart attacks or pneumonia were less likely to die if treated at a VHA hospital rather than non-VHA hospital. Integration affords veterans a level of care unavailable to most Americans. The treatment veterans receive is highly coordinated. For example, a veteran with a brain injury may also need a hearing aid or treatment for asthma or diabetes. Veterans seeing their primary care practitioners to discuss health problems can then walk down the hall and talk to a nutritionist about a diet, a pharmacist about how to correctly administer insulin or a mental health professional.

The VA healthcare system is huge. There are 150 medical centers, including four in North Carolina, and more than 800 outpatient healthcare centers. Fayetteville is fortunate to have one of each. The most recently available data indicates there were 5.69 million VA patients in 2013. Almost 9 million people were enrolled in the system. Fayetteville VAMC says it serves 70,000 veterans in 19 counties of Southeastern North Carolina and two counties in Northeastern South Carolina. National highly-publicized disability claims for which there were long wait times peaked in March 2013, at 611,000. The Fayetteville VA had one of the longest average wait times in the country. The president's budget includes $182.3 billion for the VA in 2017. The Department of Veterans Affairs says "VA's budget requests the resources necessary to increase veteran access to benefits and services, sustain progress on the disability claims backlog, and for ending Veteran homelessness."