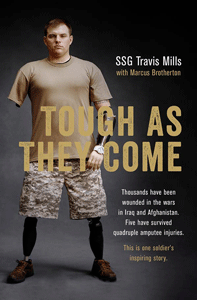 Sylvester Stallone and Adam Driver have committed to star in a planned feature film on the life of retired 82nd Airborne Division Paratrooper Staff Sgt. Travis Mills. He lost his legs and arms to an improvised explosive device in Afghanistan. He's already authored a best-selling book and is the subject of a film documentary which chronicled his 2012 combat injuries and nearly two years of recovery and rehabilitation. SSgt. Mills is one of only five quadruple amputees from the wars in Iraq and Afghanistan to survive his injuries. The movie will reportedly share its title with Mills' memoir entitled As Tough as They Come" Driver, best known for his role as the villain Kylo Ren in Star Wars: The Force Awakens, is a Marine veteran. The Army Times says he reportedly will play the part of Mills, while Stallone will direct and play Mills' father-in-law. Twentieth Century Fox has reportedly been approached per a report in Deadline.com. IMDb.com lists the film as a 2018 release. Since leaving service, Mills started a charitable foundation, has given motivational speeches and parachuted with the Army Golden Knights.
Property Revaluation Results Delayed
Cumberland County Manager Amy Cannon says the schedule for announcing the 2017 property revaluation results has been delayed until next month. Tax values were to have been made public on January 17, said spokeswoman Sally Shutt. "Tax Administrator Joe Utley will present the information at the County Commissioners' Finance Committee meeting on Feb. 2," said Chairman Glen Adams. Property owners should begin receiving revaluation notices beginning that day, Adams added. Hurricane Matthew prompted the delay. Tax appraisers had the added task of damage assessment of affected properties caused by the hurricane

Police Colleagues Cross Paths
Former Assistant Fayetteville Police Chief Charles Kimble has succeeded Troy McDuffie as Spring Lake Chief of Police. Kimble, 47, has been in law enforcement for more than 20 years. He spent most of that time with Fayetteville Police Department. Kimble ran unsuccessfully for sheriff, and most recently headed up police and security services at Fayetteville State University. Chief Kimble is a native of Milwaukee where he first got involved in police work. He takes over a police force comprised of 34 sworn officers. Kimble's hope is that relationships he has developed will benefit his new command. "It's easier to call for help from other agencies when you know the people involved," he said. McDuffie, 53, retired at the end of last year. He spent 30 years in law enforcement, much of that time with the Fayetteville Police Department. He'd been with Spring Lake Police for the last seven years.
Soldier's Death Probed
An 82nd Airborne Division Paratrooper died at his home in Fayetteville, Jan. 6. City police are investigating the death of Private First Class Andrew C. Berg, 27, of Waterford, Mich. He was a combat medic assigned to Headquarters and Headquarters Company, 2nd Battalion, 508th Infantry Regiment, 2nd Brigade Combat Team, 82nd Airborne Division. "There does not appear to be any sign of foul play regarding the death, and the body was sent to the Medical Examiner's Office in Raleigh for an autopsy," said Police Lt. Todd Joyce. "There is evidence that points in the direction that the death may be an overdose," Joyce added. Officers responded to the soldier's apartment for a well-being check after his sergeant was unable to establish contact. Berg had been in the Army about a year and a half.
Bragg Mutual's New Office
Bragg Mutual Federal Credit Union has opened a full-service branch in Spring Lake. Bragg Mutual was founded in Fayetteville in 1952, originally to serve the civilian workforce at Fort Bragg. It also provides credit union services for employees of Goodyear Tire and Rubber Co., Cape Fear Valley Health System and Fayetteville's Public Works Commission among others, said President Eileen Donovan. The new branch is located next to the Spring Lake Post Office at 219 N. Main Street.